Rainbow Chicken Salad with Almond Honey Mustard Dressing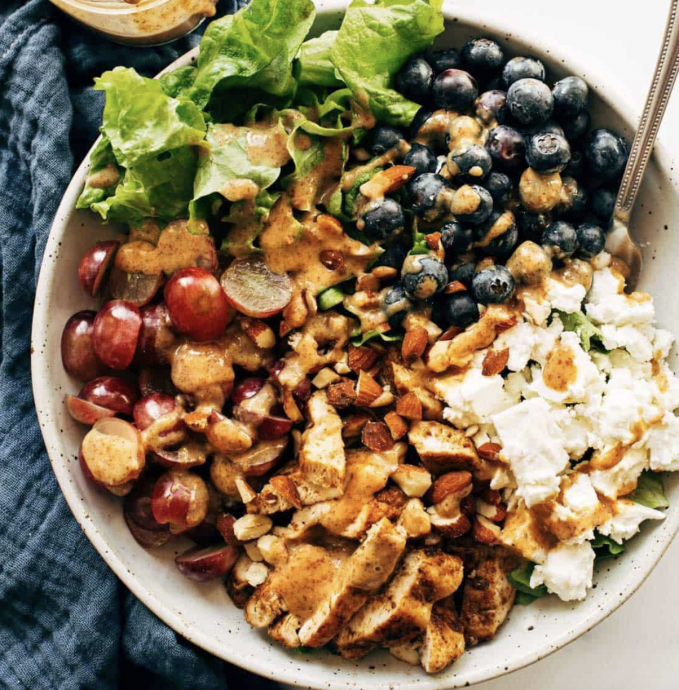 Tender chicken, plump grapes and berries, crisp lettuce, tangy feta cheese, crunchy almonds, and the real star – almond honey mustard dressing! Eat the rainbow and be glad, friends!
Red grapes, blueberries, that kinda thing? I feel reeeeeal good about it. Like, a whole bunch of juicy fresh yum just landed right in the middle of my salad. Also noteworthy in this salad is the golden brown chicken. It was simple and delicious and you know I love a good meatless main, but this spice-loaded, juicy and golden brown chicken in little bite-sized salad pieces makes me happy (and full). Add in some crunchy almonds, creamy tangy feta, and the gang's all there. Almost.
Ingredients:
For the Salad
2 teaspoons olive oil
8 ounces boneless, skinless chicken breasts (mine were cut into smaller, thinner pieces which made the sautéing a bit easier)
1/2 teaspoon salt
1/2 teaspoon pepper
1 teaspoon chili powder
2 cups grapes, halved
1 cup fresh blueberries
3 cups curly lettuce, chopped
1/2 cup feta cheese
1/2 cup almonds, chopped or crushed
For the Dressing
3 tablespoons almond butter
1 tablespoon olive oil
2 tablespoons freshly squeezed orange juice
3 tablespoons water
1 tablespoon stoneground mustard
1/2 tablespoon raw honey
1/4 teaspoon salt, more to taste
1 clove garlic