Easy Vegan Ratatouille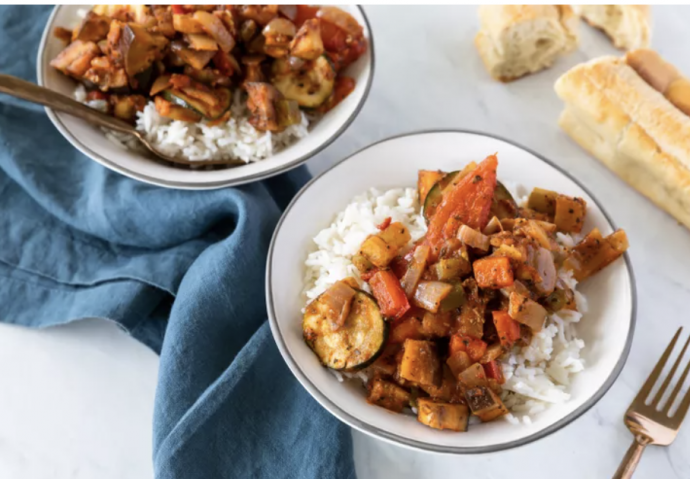 Ratatouille, a French eggplant and vegetable dish, is usually made vegetarian but is often served with meat. Why not make this easy vegetarian and vegan version and serve it with rice or pasta instead? You also could serve it over quinoa or any other of your favorite whole grains. If you haven't already, give kaniwa a try.
You'll also notice that this ratatouille recipe doesn't call for any salt, but if you're used to eating salted or saltier foods, you might find that you miss it and want to add it back in. Taste the finished dish first, and then just add a little bit if you find that it's needed since all the other herbs add a great flavor without any salt at all. For best results, always use good-quality sea salt or kosher salt—the extra expense is minimal and the return in flavor is worth it.
Ratatouille makes for a great vegetarian or vegan dinner entrée, no matter how you serve it up. For another serving idea, layer your vegan ratatouille on lightly toasted French bread for a vegetarian ratatouille sandwich. Try it over any of the gluten-free grains for a gluten-free vegan dinner.
Ingredients:
1 tablespoon olive oil
1 large onion, diced
1 bay leaf
4 tablespoons dry red wine
1/2 cup tomato juice
4 to 5 cloves garlic, crushed
1 tablespoon dried basil
1 1/2 teaspoons dried marjoram
1 1/2 teaspoons dried oregano
1 dash ground rosemary
1/2 teaspoon salt
1/2 teaspoon freshly ground black pepper
1 medium zucchini, sliced
1 green bell pepper, chopped
1 red bell pepper, chopped
1 eggplant, cut into small cubes
2 large tomatoes, cut into eighths
5 tablespoons tomato paste