Pumpkin Cheese Ball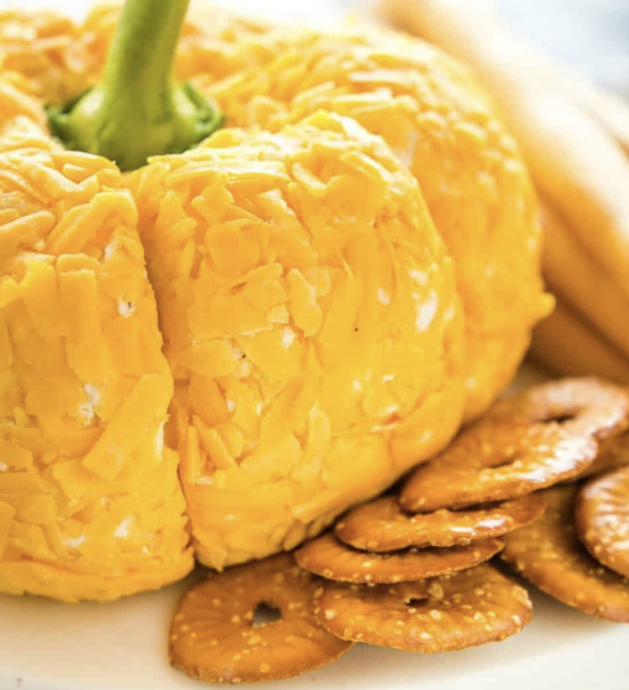 The perfect snack or party appetizer for Halloween or Thanksgiving, this fall-inspired Pumpkin Cheese Ball recipe is a classic cheese ball mixture shaped like a pumpkin and coated with cheddar cheese!
Making a cheese ball shaped like a pumpkin is a lot easier than it looks! Follow these steps below for the perfect pumpkin shaped cheese ball.
Use a firm cheese ball mixture. Be sure to follow the recipe so your cheese ball is nice and firm. This will help it keep its shape once it's refrigerated.
Shred your own cheddar. Avoid pre-shredded cheese as it often contains anti-clumping agents that can prevent it from sticking to the cheese ball and combining with the other ingredients. When making cheese balls, always grate your own cheese.
Wrap carefully in plastic wrap. Use two pieces of plastic wrap and carefully wrap the cheese ball (firmly, but not too tightly) so it's round.
Ingredients:
16 ounces full fat cream cheese
1/3 cup full fat sour cream
3 cups shredded cheddar cheese we suggest 1 cup each white and orange cheddar plus 1 cup orange cheddar for the exterior
1 cup shredded Emmentaler cheese
1/2 cup shredded Parmesan cheese
1 tablespoon lemon juice
1/2 teaspoon pepper
1/2 teaspoon garlic powder
1/2 teaspoon onion powder
1 bell pepper for the stem