Chipotle Lime Salmon Tacos with Corn Avocado Peach Salsa & Cilantro Yogurt Sauce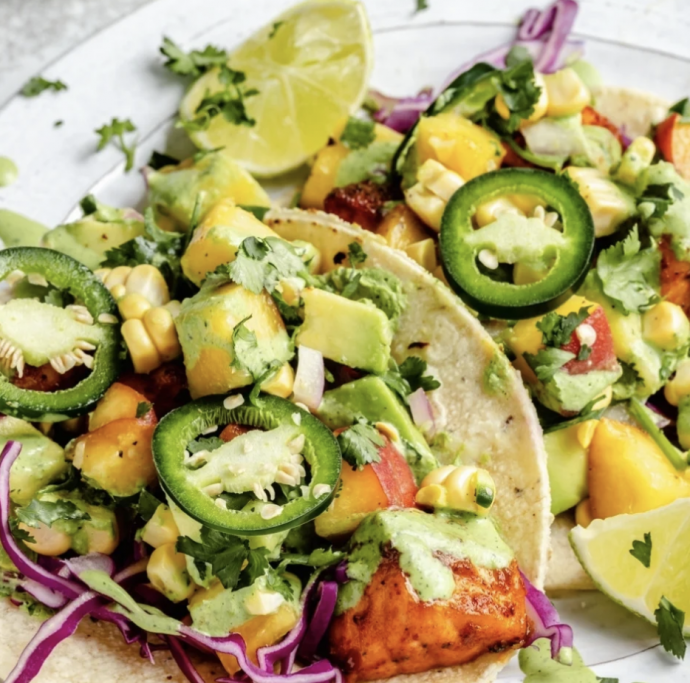 Incredible chipotle salmon tacos with fresh corn avocado peach salsa and a creamy, spicy cilantro yogurt sauce. These baked chipotle lime salmon tacos are packed with flavor and protein for the perfect dinner to make all summer long! Truly the BEST salmon tacos you'll ever make.
The salmon is marinated in a sweet and spicy chipotle brown sugar lime mixture and baked to crispy, caramelized perfection. You'll then add that perfect corn avocado peach salsa for hints of freshness and sweetness, and finally, top everything with my brand new creamy cilantro yogurt sauce.
Ingredients
For the salmon:
1 pound salmon, cut into 1 inch cubes and skin removed
1 tablespoon avocado oil
1 teaspoon lime zest
½ lime, juiced
1 1/2 tablespoons brown sugar (or sub coconut sugar)
¾ teaspoon chipotle chili powder
3/4 teaspoon cumin
1/2 teaspoon garlic powder
1/2 teaspoon paprika
¼ teaspoon salt
Freshly ground black pepper
For the avocado peach salsa:
1 medium ripe but still slightly firm peach, diced
1 ripe but still slightly firm large avocado, diced
1 large ear corn, kernels cut off (about ¾ cup corn)
2 tablespoons finely diced red onion
1/2 jalapeño, seeded and diced (reserve other half for slicing and garnishing)
1 tablespoon finely diced cilantro
1/2 small lime, juiced
Salt & freshly ground black pepper, to taste
For the sauce:
For serving:
8 soft corn tortillas
Extra thinly sliced jalapenos
Extra cilantro
Shredded red cabbage