Lemon Vanilla Custard Slice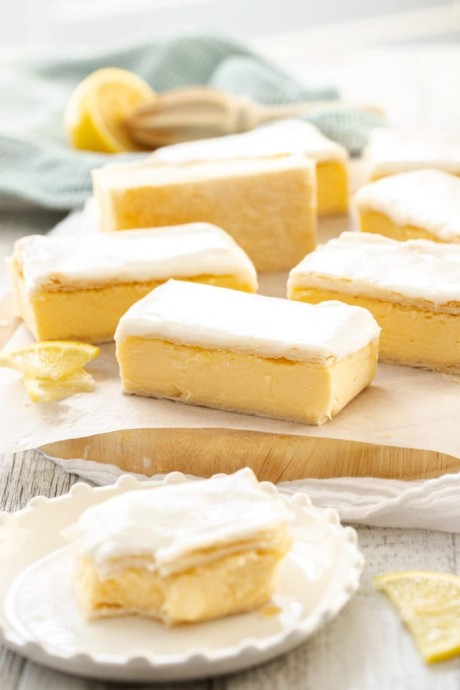 This classic Australian bakery treat, the Vanilla Custard Slice is a sweet, creamy set-custard between layers of crisp puff pastry, topped with icing. This recipe has an irresistible tang of lemon and is easy to make at home.
Similar to mille-feuille but with less pastry, the traditional vanilla slice has a thick, sweet custard set between two layers of puff pastry. It's most often topped with a white vanilla icing but sometimes it's pink and others, it is a passionfruit icing. I've also seen it topped just with a good dose of icing (powdered) sugar but the icing is the way to go in my opinion. With 3 layers of goodness, this recipe is actually a pretty simple one and one that is very easy to make at home. If you're a purist and / or want that traditional vanilla slice, simply leave out the lemon components and add an extra teaspoon of vanilla to the custard mix.
Passionfruit icing: Passionfruit icing is absolutely lovely and works well with the both the vanilla and lemon varieties of this slice. Substitute the lemon juice in the icing for passionfruit pulp. You may need a little extra but add it a little at a time so that it's not too runny like mine was in these pics. Still indulgent and delicious though. Passionfruit pulp is often sold in the freezer section or tinned fruit section if you can't find fresh. This delightful bakery treat is so easy to make at home. Rich, creamy and delicious Lemon Vanilla Custard Slice is wonderful for afternoon tea or to take when visiting friends.
Ingredients:
2 sheets puff pastry
1 ½ cups milk
1 1/2 cups thickened (heavy) cream
57 g (1/4 cup) unsalted butter
1 teaspoon vanilla extract
1/2 cup white granulated sugar
1/2 cup cornflour / cornstarch (spooned & levelled)
¼ cup water
1 teaspoon lemon zest
1 ½ tablespoons lemon juice (notes)
4 egg yolks (from large eggs)
FOR THE ICING
1 1/2 cups icing (powdered) sugar
2 tablespoons lemon juice (notes)