Creamy Butternut Squash Pasta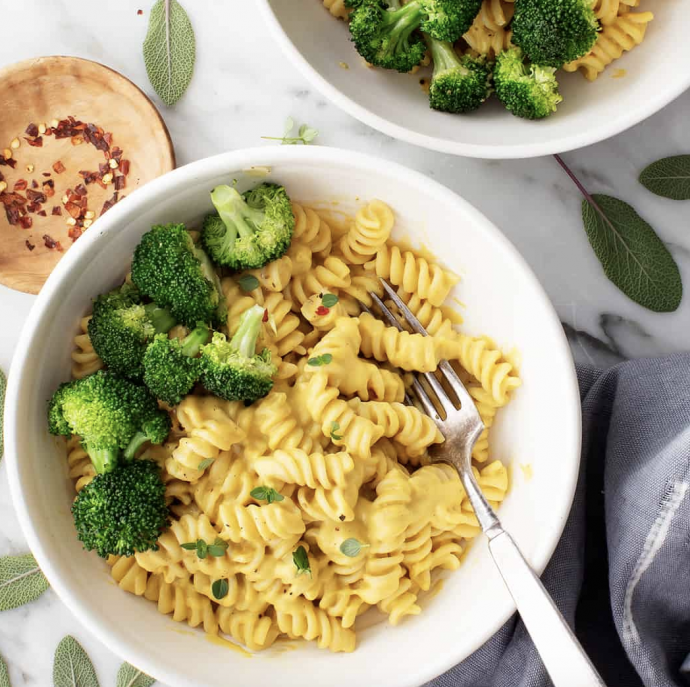 This butternut squash pasta is healthy, comforting, and delicious! Roasted squash, sage, and thyme fill the creamy sauce with cozy autumn flavor.
The creamy sauce is rich and nutty, with bold autumn flavor from herbs like sage and thyme. Because it's so flavorful and complex, this butternut squash pasta would make a show-stopping vegetarian main dish at a special occasion dinner. Drizzle the squash with olive oil and sprinkle it with salt and pepper. Then, place it cut-side-down on a parchment-lined baking sheet. Wrap the shallots and garlic in foil with a drizzle of olive oil and a pinch of salt, and add them to the baking sheet too. Roast for 30 minutes at 425°, or until the squash is tender.
Ingredients:
½ small butternut squash, halved vertically, and seeded
Extra-virgin olive oil
2 shallots, coarsely chopped (½ cup)
3 garlic cloves, unpeeled
¾ cup water
½ cup raw cashews
1 tablespoon nutritional yeast
1 tablespoon balsamic vinegar
10 fresh sage leaves
1 tablespoon fresh thyme, plus a few leaves for garnish
12 ounces rotini pasta
Sea salt and freshly ground black pepper
Sauteed broccoli, for serving, optional