Chicken Parmesan Quinoa Casserole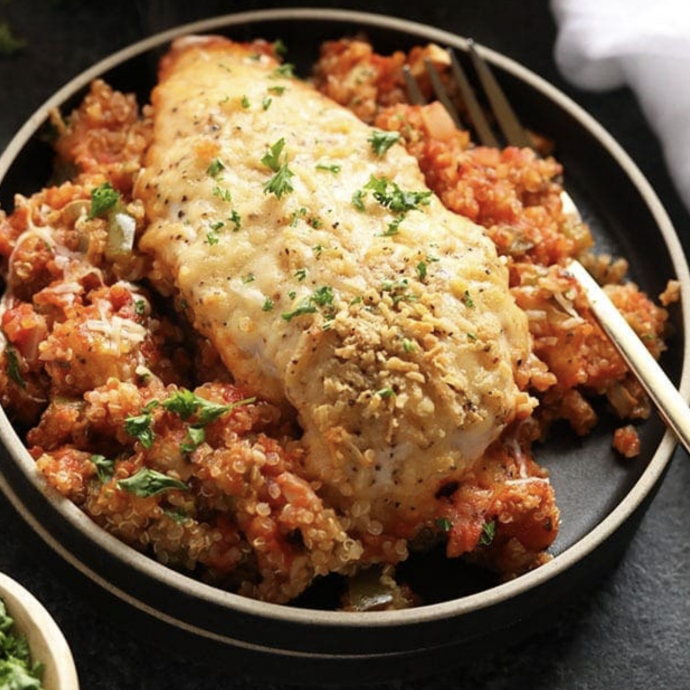 Chicken parmesan quinoa casserole is exactly what it sounds like. Juicy, cheesy chicken parmesan on top of a quinoa marinara base!
Each time I make this quinoa casserole recipe, it gets better and better. I love that this easy meal requires only one pot and is packed with so much protein (thank you chicken and quinoa).
The base of this dish tastes just like spaghetti but is made without noodles and quinoa instead. It packs in tons of veggies – mushrooms, onion, green pepper, and quinoa. Then, on top, is simple and flavorful parmesan chicken.
Ingredients:
1 cup white quinoa rinsed
1 medium green pepper diced
1.5 cup white mushrooms diced
1/2 yellow onion finely diced (~1/2 cup)
3 cups marinara sauce
1 cup chicken broth or vegetable broth
1 tablespoon minced garlic
1 large egg
2 tablespoons all-purpose flour or g/f all-purpose
1 cup shredded parmesan cheese
2 teaspoons garlic powder
16 oz. boneless, skinless chicken breast
salt and pepper to taste