Apple Upside Down Cake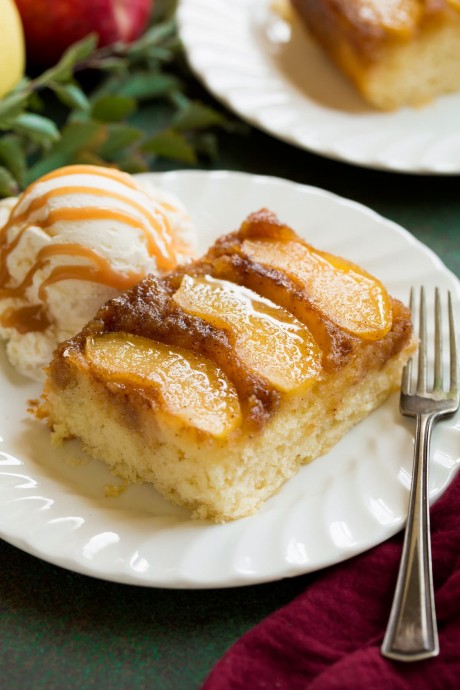 Apple Upside Down Cake – a delicious old fashioned apple dessert with sweet cinnamon and caramel-like flavors. It's a simple yet seriously satisfying cake topped with fresh apples and no frosting is needed. I actually meant to share this back before thanksgiving but I had too many fall recipes to share that I couldn't fit everything in. But the great thing about this delicious apple upside down cake recipe is that it's the perfect dessert to serve any day of the year because good apples are pretty easy to find. Apples and bananas are the two fruits you can usually rely on year round.
In this cake you'll get two layers of decadence – that buttery, brown sugar and cinnamon coated apple layer which rest upon the second layer of a flavorful, moist, buttermilk cake. This is one of those easy to prepare cakes, no special skills needed or fancy tools. Just back to basics baking. My favorite part (other than its irresistible flavor of course) is that there's no lengthy periods of waiting for the cake to cool all the way through, then frosting it. You just need to wait the 15 minutes to remove it from the pan (so it doesn't crack or break) and you can serve it warm with rich vanilla ice cream. Talk about delicious! Next time around I'm thinking about dicing up the apples small and making into cupcakes, let me know how it goes if you beat me to it. This cake should also work well with fresh cubed pineapple, blueberries or sliced peaches.
Ingredients:
3/4 cup (150g) packed light brown sugar
1/4 cup (56g) unsalted butter, melted
1/2 tsp ground cinnamon
1/4 tsp ground nutmeg
1/8 tsp salt
2 medium golden delicious apples, peeled, cored and sliced into 1/2-inch thick wedges
2 tsp lemon juice
1 1/2 cups (212g) all-purpose flour
1 1/2 tsp baking powder
1/4 tsp salt
1/2 cup (113g) unsalted butter, at room temperature
3/4 cup (150g) granulated sugar
2 large eggs, at room temperature
1 tsp vanilla extract
2/3 cup buttermilk or milk, at room temperature