Egg Rolls (Fried or Baked)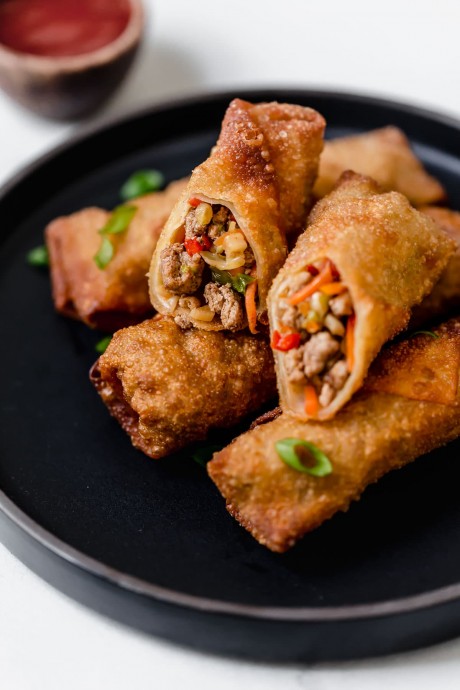 Perfect egg rolls – much easier to make than you'd think and even better than Chinese take-out (because homemade is always best right?). Egg rolls might seem like an intimidating dish but by following a few simple steps you'll see they're really are a straightforward, easy to make recipe. Here you'll learn how to deep fry in oil or bake in the oven for a lighter alternative. Both options are delicious but nothing beats that deep fried texture.
They great thing about these is that people of all ages love them! Who can resist this delicious finger food? Pair with your favorite Asian dipping sauce like sweet and sour sauce, sesame sauce, Thai sweet chili sauce, or teriyaki sauce. And if you're like me load up on the Sriracha! Then if you want to go the lazy route one day, you can even try making a meal of the filling served over rice, no egg roll wrappers or assembly required (just add a little extra soy sauce to the filling). You get an amazingly crisp and flaky, fried roll filled with hearty ground turkey or pork and fresh sautéed vegetables. They're the perfect appetizer or even main dish.
Ingredients:
1 lb 93% lean ground turkey
1 1/2 Tbsp vegetable oil
Salt
3/4 cup chopped bell pepper
2 tsp minced garlic
1 1/2 tsp peeled and minced ginger
2/3 cup diced green onions
2 cups shredded green cabbage (8 oz)
1 cup matchstick carrots (2 oz)
1 Tbsp soy sauce
1 1/2 tsp sesame oil
1/2 tsp Chinese five spice
20 egg roll wrappers (1 lb pkg. such as Nasoya)
1 egg, beaten
Vegetable oil for frying (about 6 - 8 cups)
Sweet and sour sauce or other Asian dipping sauce, (such as La Choy brand) for serving (optional)