Intensely Chocolate Brownie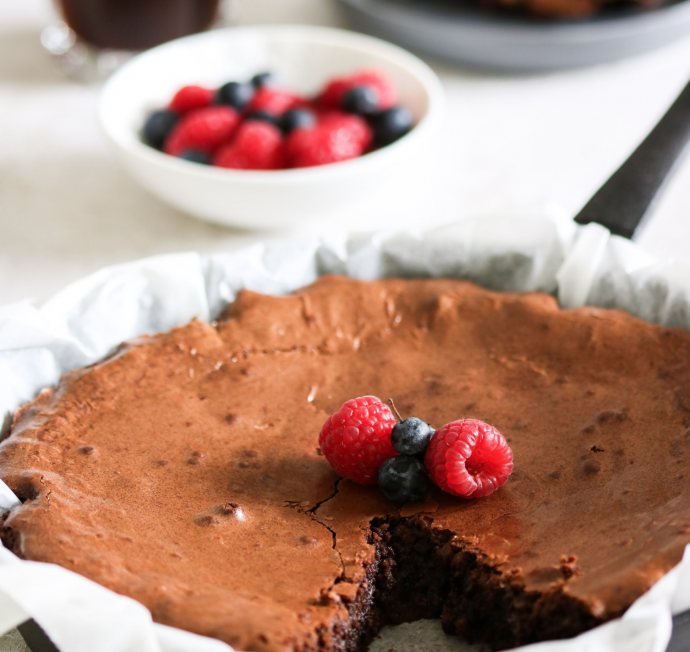 This is my absolute favorite brownie recipe. The brownie here is delicious, moist, and chocolaty, so you can cut it in small pieces and serve for a crowd (of kids, for example). And I guarantee you, that crowd will be pleased. Keep brownie for several days in a tightly sealed container at room temperature, and you can freeze it well too. Be sure to allow time to let the butter come to room temperature for about an hour before you start baking.
Ingredients
1 cup (2 sticks) butter, plus a little extra for the pan
1 cup semisweet chocolate chips
1 cup (packed) light brown sugar
5 large eggs
1 tablespoon pure vanilla extract
½ cup unbleached all-purpose flour
1/8 teaspoon salt
Fresh berries for garnish
Directions
1. About an hour ahead of time, unwrap the butter and place it in a large bowl. Use a table knife to cut it into 1-inch pieces, and let it stand at room temperature to soften.
2. Adjust the oven rack to the center position and preheat the oven to 350°F (325°F if you're using a glass pan). Put a little soft butter on a paper towel, a piece of waxed paper, or a butter wrapper, and lightly grease the bottom and corners of a baking pan. No need to grease the sides.
3. Fill a smallish saucepan with water, and place a heatproof bowl that is large enough to hold the chocolate chips directly on top of the pan. The bowl should rest firmly in place, clutched by the pan's rim, and the bottom of the bowl should not be touching the water. Pour the chocolate chips into the bowl, and put the whole setup on the stove over low heat. Let the water simmer gently until the chocolate chips are all melted (there should be no solid pieces when you give it a stir). Remove the pan from the heat, and carefully, using pot holders or oven mitts, remove the bowl of melted chocolate from the pan. Set it aside to cool a little.
4. Use a handheld electric mixer at high speed (or if you don't have one, use a whisk, with enthusiasm) to beat the butter (by itself, for now) for a couple of minutes, or until it becomes light and fluffy. Crumble in the brown sugar, and continue to beat at high speed for another 2 minutes or so. Use a rubber spatula to scrape the sides of the bowl a few times during this process.
5. Add the eggs, one at a time, beating well enough after each addition to thoroughly mix it in. Add the vanilla extract, and continue to beat for another minute or two, until everything is very well combined.
6. Keep beating as you slowly drizzle in the melted chocolate. (If you are beating manually, you might want to get someone to help hold the bowl steady for this.) Beat well until the chocolate is completely incorporated.
7. Sprinkle in the flour and salt, and stir until they disappear into the batter. Transfer the batter to the prepared pan, taking care to scrape all of it in with a rubber spatula. Then use the spatula to spread the batter evenly.
8. Bake for 15-20 minutes, or until the top springs back a little when lightly touched in the center. (They might seem under-baked, but they will firm up as they cool, and these are moist brownies. That said, if they seem too soft for you, it's okay to leave them in the oven for a few minutes longer, until a toothpick inserted all the way into the center comes out clean. At that point, they'll be cakey brownies, rather than fudgy ones.)
9. Wait for them to cool. Try your best to resist eating these guys straight out of the oven. Letting them cool makes them gooier and fudgier, and they'll be less likely to crumble when you slice them. Plus, they'll have an even richer chocolate flavor. Trust me, it's worth the wait!
Then cut them into squares of your preferred size. Let them sit for another 10 minutes, garnish with berries. Serve with vanilla or coffee ice cream! Bon Appetit!
Tips
For Chocolate Chip Brownies, use some more chocolate chips. Put half the bag into the batter melted, as directed, and sprinkle the remaining chocolate chips into the batter when you add the flour.
For Chocolate-Banana Brownies, mash a medium-sized very ripe banana into the butter when you begin.
For Chocolate-Nut Brownies, stir ½ cup chopped walnuts or pecans into the batter just before spreading it in the pan.
Use a strainer to sift a little powdered sugar over the top of the brownies after you slice them.