Greek Butterflied Lamb Leg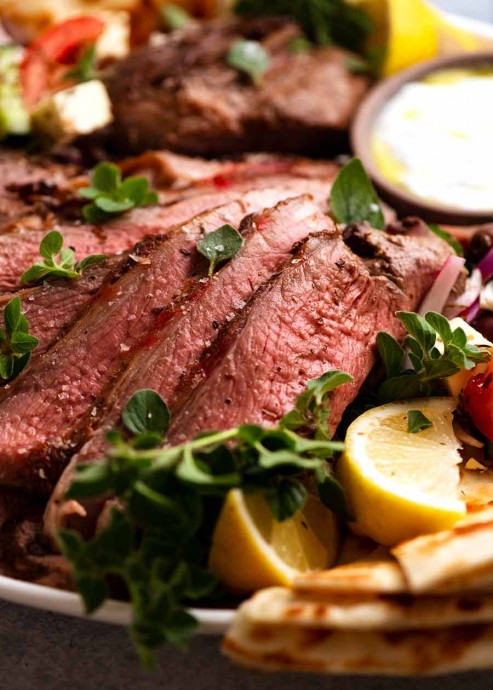 When you marinate a butterflied lamb leg in a bold garlic/lemon/oregano Greek marinade, very good things will happen … Specifically, amazingly tender, seriously flavour-infused lamb! Excellent to grill on the BBQ, or roast in the oven. A sensational share platter meal option for gatherings – the Greek way! Butterflied lamb leg is simply a leg of lamb with the bone removed so the meat lies flat and is relatively uniform in thickness. This means the lamb cooks faster than a traditional whole roast leg, as well as opening the leg up to all sorts of flavour possibilities.
Today, we're going Greek! Lots of garlic, lots of lemon, lots of oregano – flavours that are a natural pairing with lamb given it's one of Greece's favourite meats! This dish is fabulous for gatherings, shared platter-style, or a quick summer meal that will feed your family over a couple of nights. Here are some serving options and suggested sides: Greek Salad – A big, juicy, fresh Greek Salad is literally made to serve alongside this lamb; Flatbreads – Stuff the meat inside for homemade lamb wraps! Rice (and similar) sides – such as Greek Lemon Rice, Mediterranean Brown Rice Salad, Greek Lemon Orzo Salad (Risoni) Fast no cook side option – Couscous. Douse it generously with lemon, toss through some chopped tomato and cucumber if you're feeling it, maybe some sliced olives. Marinated Greek-flavoured Chickpea Salad (this is really, really good) Bright, zesty Lentil Salad or try this Roasted Eggplant Lentil Salad. Tzatziki as an accompaniment (use the one in my Gyros recipe) or even just plain yogurt jazzed up with squeeze of lemon juice, olive oil, salt and pepper.
Ingredients:
MARINADE:
1 tbsp dried oregano
3 large garlic cloves , minced using garlic press
2 tsp salt
1 tsp black pepper
1/3 cup fresh lemon juice
1 tbsp zest (= zest of 1 lemon)
1/2 cup olive oil
FOR COOKING:
1 tbsp oil (for brushing BBQ or for stove sear)
SERVING OPTIONS:
Lemon , for garnish
Oregano leaves , optional garnish as pictured
Flatbreads or store bought pita breads
Greek Salad
Tzatziki (use recipe in Gryos) or just use plain yogurt