Tandoori Chicken Thighs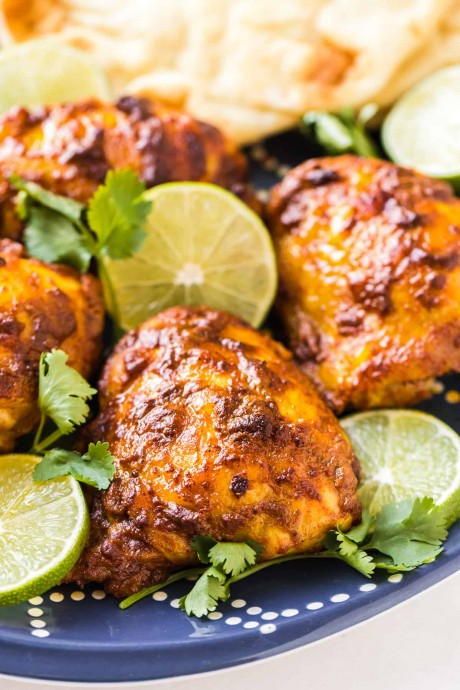 These tandoori chicken thighs are bursting with Indian flavors. Marinated in yogurt and seasoned with spices, they come out wonderfully tender and juicy! I just know you will love these delicious tandoori chicken thighs! Baked in the oven, they are simple to make and just bursting with flavor!
Perfect for main meal served with rice, naan and veggies. Why you will love these tandoori chicken thighs? Juicy and tender: The chicken thighs are marinated in yogurt which tenderizes the meat slowly resulting in the most tender chicken. Flavorful: The chicken is seasoned with Indian spices for a deliciously tasty bite. Oven baked: Oven baking means that this recipe is pretty hands off, leaving you to get on with other things while dinner is cooking.
These chicken thighs should be marinated for at least two hours. Because we use yogurt to marinate it, rather than a harsh acid like lemon or lime, you can leave the chicken marinating overnight.
I really like to make this recipe with thighs as they come out so tasty and tender. You can make this with chicken breasts though if you prefer. You will need to reduce the cooking time slightly if you use breasts.You can enjoy them cold, shredded on top of a salad or reheat them in the oven at 25F for 20 to 25 minutes. Cover them with foil so that the skin doesn't burn.
Ingredients:
1 ½ pounds chicken thigh bone in and skin on (about 4 chicken thighs)
¼ cup full fat plain Greek yogurt
2 Tbs olive oil
2 tsp salt
1 tsp garam masala
2 tsp paprika
½ tsp turmeric
½ tsp cumin
½ tsp coriander
½ tsp garlic powder
¼- ½ tsp chili flakes depending on desired spice level
Optional garnishes: cilantro and fresh lime