Butternut Squash Ravioli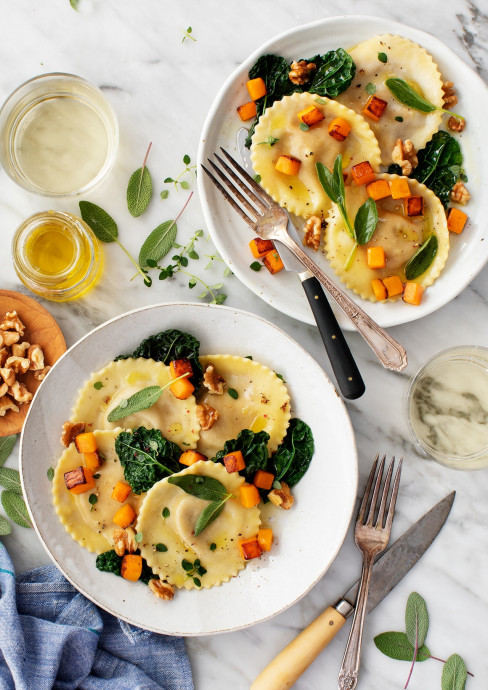 This butternut squash ravioli recipe is the ultimate fall cooking project! Pockets of homemade pasta surround a rich, creamy squash and sage filling.
If you're ever wondering how to spend a rainy, gray fall day, here's your answer: make this butternut squash ravioli recipe! It's a bit of a project, as you'll make both the pasta and the filling from scratch, but Jack and I can attest that it's a total blast. Your kitchen will fill with the mouthwatering aroma of roasting squash, shallots, and sage, and you'll have a chance to get a little crafty as you carefully fill and punch out each piece of butternut squash ravioli.
Then comes the best part: you eat! I love to serve my butternut squash ravioli with a light sage and white wine sauce, but you could just as easily top it with olive oil, sea salt, and a shower of Parmesan cheese. It'll be delicious either way, thanks to the fresh, al dente pasta and the creamy squash filling. Let's cook!
I love to top my butternut squash ravioli with a tangy, aromatic sauce made from garlic, sage leaves, white wine, and fresh thyme. It comes together in right around 5 minutes – less than the time it takes to boil water and cook the pasta – and it's the perfect simple finishing touch for the flavorful ravioli. This combination is simple, elegant, and packed with texture and flavor. I really hope you give it a try!
Ingredients
For the ravioli
1 small butternut squash
Extra-virgin olive oil, for drizzling
1 medium shallot, roughly chopped (scant ½ cup)
3 garlic cloves, peeled
¼ cup loose-packed fresh sage
1 Recipe Homemade Pasta
⅓ cup chopped walnuts
1 teaspoon apple cider vinegar
Pinch of nutmeg
¾ teaspoon sea salt
Freshly ground black pepper
For serving
2 tablespoons olive oil
2 garlic cloves, sliced
10 sage leaves
2 tablespoons dry white wine
1 teaspoon fresh thyme
¼ teaspoon sea salt
¼ cup chopped walnuts
Freshly ground black pepper
1 cup Roasted Butternut Squash cubes, optional
½ bunch Sauteed Kale, optional
Grated pecorino cheese, optional