Beef Fajitas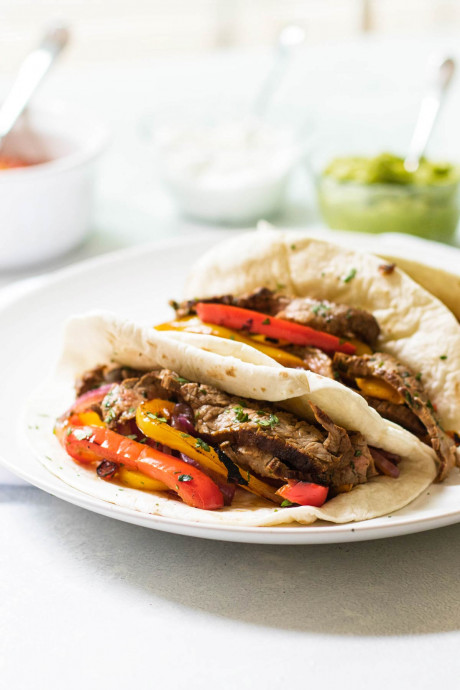 Beef fajitas with marinated beef, colorful peppers, and onions wrapped up in tortillas make for a delicious weeknight dinner. This is an easy recipe that will satisfy the craving for Mexican food – especially if you add some chips and salsa on the side. There's a lot to love about beef fajitas: it's an easy recipe to make, it's colorful, loaded with veggies, and plenty of juicy beef that cooks fast in a hot skillet.
The recipe I'm sharing is an easy dinner for two but easily doubles to serve more. Add some chips, guacamole, salsa, and a few margaritas on the side amp up the happy quotient. Oh, and bonus (!) – fajitas are a great make-ahead meal, so feel free to prep and cook them on a Sunday and then warm them up for an easy dinner or lunch during the week. It all starts with the beef.
Traditional recipes call for skirt steak or flank steak, but I use chuck eye roast. It's less expensive compared to skirt and flank steak and I find it tastes just as good. You can also use sirloin, which is a little pricier. Whichever cut of beef you decide to use, be sure to marinate it first. It requires some advanced planning, but the wait is worth it. Marinate it for at least a few hours, or (ideally) overnight. Wrapping the beef and peppers up in flour tortillas is delicious, but there are other ways to enjoy beef fajitas: Serve them over cilantro lime rice and add some sliced avocado, cilantro, and sour cream! Toss the steak, peppers, and onions with crisp romaine lettuce, black beans, corn, and crushed tortilla chips for a fajita salad. Happy fajita-making!
Ingredients:
1/4 cup olive oil
2 tablespoons soy sauce
1 tablespoon red wine vinegar
1/2 tablespoons honey
2 cloves of garlic, smashed
1 teaspoons dried oregano
2 teaspoons cumin
1/4 teaspoon pepper
1/2 pound chuck eye roast (see note)
1 tablespoon vegetable oil
2 bell peppers, sliced into strips
1/2 red onion, sliced
1 tablespoon chopped cilantro