Russian Tea Cakes (Snowball Cookies)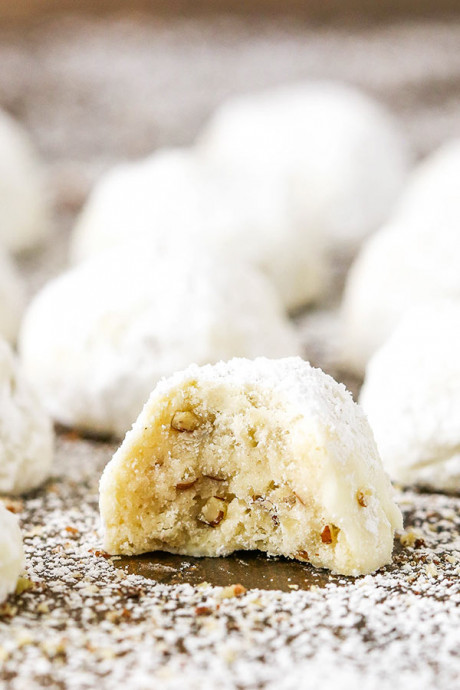 Russian Tea Cakes are tender, buttery cookies with a light nutty flavor all covered in powdered sugar! Also called "Snowballs," these cookies are delicious and a wonderful holiday classic. One of my most requested cookie recipes! There are so many things to love about these cookies! For starters, they are quick and easy to make. The cookie dough comes together with only 6 ingredients. I do like to refrigerate them for about an hour before baking them, but you don't have to. I personally think the cookies stay a little more tender on the inside if they've been refrigerated first. Another reason to love them is that they are literally covered in sugar. Yes! Two layers of it, in fact. That outside layer of powdered sugar just melts right in your mouth. Completely addicting! And after you get past the outside, the inside is soft, buttery and also melts in your mouth. So darn good!
Of course one thing that adds great flavor to these cookies is the light nutty flavor, bit if you aren't a nut fan, you could certainly leave them out. Russian Tea Cakes are a simple cookie, similar to shortbread, known for the nuts included in the cookie and the powdered sugar used to decorate them. These cookies last very well for about a week when stored in an air tight container. They could also be made ahead and frozen, but you'll want to freeze them prior to adding the powdered sugar, which would just dissolve when they thaw. Instead, thaw the cookies in the fridge when you're ready for them and then dip them in the powdered sugar. These Russian Tea Cakes are wonderful, sugary little bites of heaven! They are nice and small, so they are easy to snack on with a cup of coffee or eggnog (or tea!) and just enjoy the holidays. I hope you love them!
Ingredients:
1 cup (224g) unsalted butter, room temperature
1 1/2 cups (173g) powdered sugar, divided
2 tsp vanilla extract
2 1/4 cups (293g) all-purpose flour
1/2 tsp salt
3/4 cup (85g) finely chopped nuts (I used toasted pecans)