Homemade Breakfast Sausage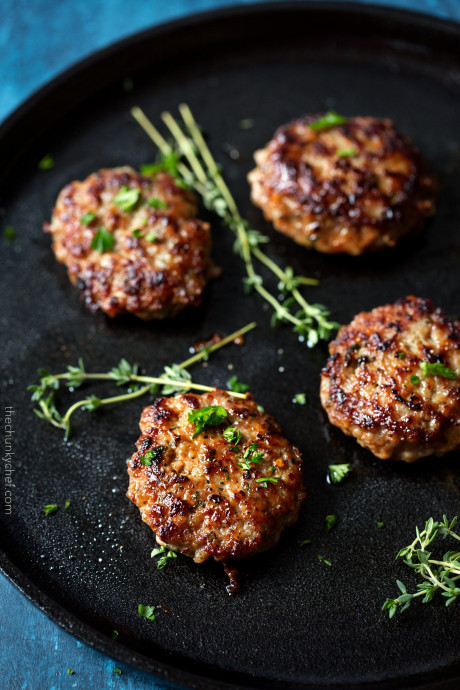 This recipe for homemade breakfast sausage is low in calories, made with a combo of pork and turkey, they're the only kind of breakfast sausage you'll need! Usually breakfast sausage comes from a pouch at the grocery store, but today I'm sharing a fantastic way to make it at home, using simple ingredients! Once you've made the patties, you can easily freeze them… or cook them first, then freeze, for a quick, on-the-go breakfast idea!
This sausage is a mouthwatering combination of pork, turkey, fresh herbs, seasonings and maple syrup. Can't forget that maple syrup! There's something about that little touch of sweetness that really takes the meat to a whole new level. Making these breakfast sausage patties is incredibly easy… just like mixing up some meatballs (except don't actually scoop them into balls lol). Once you've combined everything, spread it out onto a wax paper lined baking sheet in as even a layer as you can manage (sometimes the meat just doesn't cooperate). Grab a biscuit cutter or large-mouthed drinking glass (hint: spray the rim to keep the meat from sticking too much), and cut out the patties. You can fry them up in a skillet for that home-cooked feel, or skip the spatter and bake them in the oven!
Ingredients:
1 lb ground pork
1 lb ground turkey
1/4 cup maple syrup (use the darkest REAL maple syrup you can find)
3 cloves garlic, minced
1 Tbsp fresh sage - chopped
3/4 tsp dried thyme - (or 1 Tbsp fresh thyme - chopped)
1 1/2 tsp kosher salt
3/4 tsp black pepper
1/4 tsp paprika