Tartiflette - Cheesy French Potato Casserole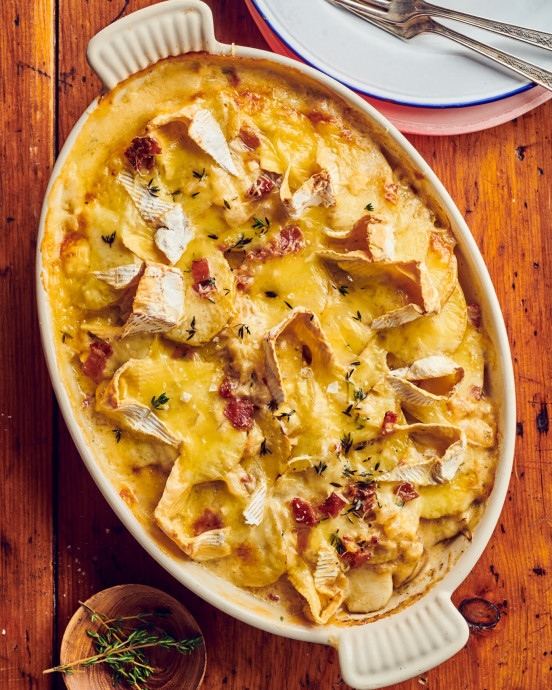 Tartiflette is a cozy casserole with origins in Savoy in the Alps. Similar to au gratin potatoes, it consists of layers of sliced potatoes bathed in cream — but the thing that makes tartiflette special is its topping. Right before baking, wedges of soft-rind cheese are placed on top so they melt in the oven, creating a blanket of cheese over the entire casserole. It's pure decadence, combining potatoes and cheese in the most luscious way possible. This recipe will guide you through making a cheesy, ultra-savory tartiflette. It includes a creamy onion sauce, crispy bacon bits, tender potatoes, and melty cheese. Serve it as a decadent side dish or as the main meal — after all, you really can't go wrong with a comforting potato and cheese casserole.
Many recipes for tartiflette call for Charlotte potatoes, which are long, waxy potatoes with a light yellow skin. They're popular throughout Europe, but not as common in the States, which is why our recipe uses Yukon Gold potatoes in their place. They have a similar texture to Charlotte potatoes (they don't fall apart during cooking), and their flesh is rich and buttery, lending the tartiflette an impossibly luscious texture that practically melts in your mouth. If you can't find Yukon Gold potatoes, any small, waxy potato will work well.
Ingredients:
2 1/2 pounds Yukon Gold potatoes
1 tablespoon plus 1 teaspoon kosher salt, divided
2 ounces Gruyère cheese, grated (about 1/2 cup)
3 cloves garlic
1 medium yellow onion
1 tablespoon fresh thyme leaves
6 slices thick-cut bacon (about 7 ounces)
1 (8-ounce) wheel semi-soft, soft-rind cheese such as Reblochon, Brie, or Camembert
1/2 teaspoon freshly ground black pepper
1/2 cup dry white wine
1 1/2 cups heavy cream