Grilled Carrots With Avocado and Mint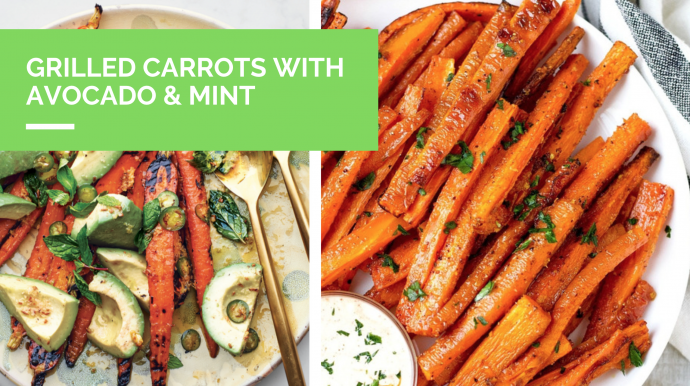 These grilled carrots are sweet and savory, perfectly cooked, and full of amazing flavor! In fact any grilled vegetables can simplify your meal preparation when paired with other grilled dishes or weekend BBQ entrees to make a complete meal. As carrots are currently in season, don't peel them—just give them a quick scrub. The nutrient-rich skins will get deeply charred on the grill.
Ingredients
1 tsp. cumin seeds
3 tbsp. fresh lemon juice
2 tsp. honey
3 tbsp. extra-virgin olive oil
1 piece ginger, peeled, finely grated
Pinch of salt
5 medium carrots
2 avocados, cut into large pieces
1⁄2 cup mint leaves
Directions
1. Prepare a grill for medium heat. Toast cumin seeds in a dry small skillet over medium heat, tossing often, until fragrant, about 2 minutes. Let cool.
2. Coarsely crush cumin seeds with a mortar and pestle (or on a cutting board with the flat side of a chef's knife). Transfer to a large bowl. Add lemon juice and honey. Whisk in 1⁄4 cup oil, then add chile and ginger. Season dressing
with salt. Let sit while you grill carrots (this will give chile and ginger time to infuse into dressing).
3. Toss carrots and remaining olive oil on a rimmed baking sheet to coat; season with salt. Grill carrots, turning occasionally, until lightly charred in spots and tender, 14–18 minutes. Transfer carrots to bowl with dressing and toss to coat. Taste and season with more salt if needed.
4. Arrange carrots and avocados on a platter and spoon any dressing left in bowl over. Top with mint.
Tips
If you have a grill basket, you can also slice your carrots into medallions or rounds. Follow all the steps above, but cook for about 5 to 7 minutes, turning once during cooking. Carrot rounds look nice on a plate for presentation and are also a little easier for kids to eat.
To kick these grilled carrots up, consider adding a small squeeze of fresh lemon juice immediately after taking off the grill.
Do not buy baby carrots for this recipe! I recommend using medium to large carrots.
Have you tried to cook this recipe? Let me know!