12 Minute Thai Chicken Peanut Noodles (mince)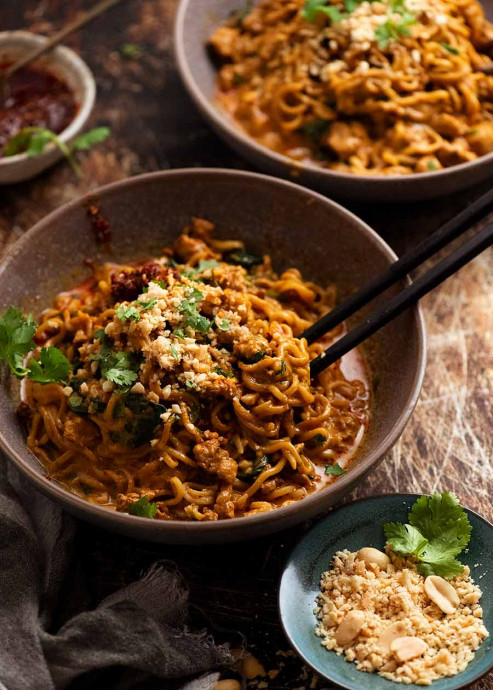 Thai Chicken Peanut Noodles is what you make when you've got less than 15 minutes to get dinner on the table and you need a Thai fix! Using chicken mince means no meat prep – and you can switch out with literally any ground meat (beef, turkey, pork). It's just a really tasty one-skillet, minimal-prep dinner that's full of Thai-inspired flavours.
Specifically, Thai Peanut Sauce flavours. All you Thai Chicken Satay fans out there will LOVE it! This is a dish that's intended to be a quick meal so you don't need to worry about adding a side dish or similar to get your greens in. You can be very generous with the baby spinach because it wilts down into nothing. One might look at the ingredients above (or how delicious the dish looks!) and think, "this can't take 12 minutes!!". The trick here is that the only thing you need to chop is the garlic (and toppings) and there's a nice work flow so you can measure out the ingredients while you're cooking. Oh – and yes, the noodles are cooked in the same skillet the chicken is cooked in. No pre-cooking required!
Ingredients:
1 tbsp oil
1 garlic clove , minced
200g/7oz chicken mince (ground chicken)
1 tsp curry powder
1 1/2 tbsp red curry paste , separated
1 tsp dark soy sauce
1 1/2 cups chicken stock/broth , low sodium
3/4 cup coconut milk (~1/2 a can), full fat for best flavour
2 tbsp cider vinegar
3 tbsp peanut butter
2 instant ramen or noodle cakes ~70-100g/2.5-3.5oz per cake; any brand (discard seasoning pack)
2 (big!) handfuls baby spinach
TO SERVE:
2 tbsp peanuts , finely chopped
Roughly chopped fresh coriander/cilantro leaves
Sriracha or other chilli paste , optional