Frosted Chocolate Fudge Pop Tarts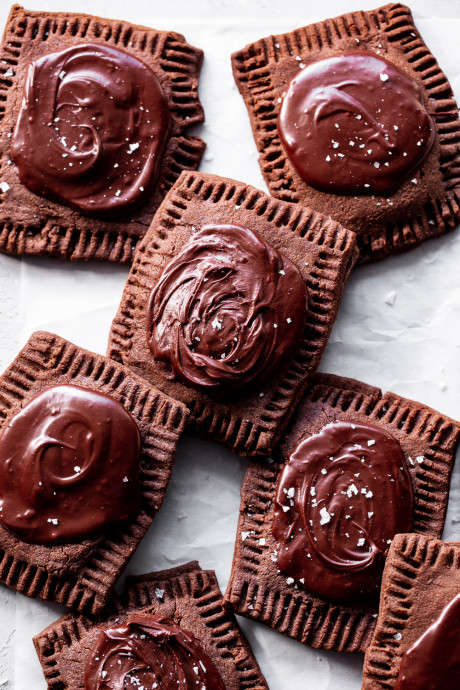 These frosted chocolate fudge pop tarts have passed all the tests! Gooey dark chocolate fudge filling in a flaky grain free pastry crust topped with the perfect chocolate frosting. They're family approved and great for a special weekend baking project! Grain free with paleo and dairy free options. We're kicking off February with chocolate (as I love to do every year!) And this isn't just any chocolate recipe – it's kind of a big deal. Homemade chocolate fudge pop tarts, made gluten free and paleo!
Homemade tarts, paleo or not, are quite the baking project. But of course it's winter and since we're all staying home even more than usual, baking projects are more than welcome on a lazy Friday! This recipe took me a total of three days to prep and test to get it just right, but I promise it won't take you that long! A lot of the time is spent chilling the dough, which you can easily do the day before to make the recipe easier to tackle. You'll see the ingredients are relatively simple and if you're a grain free baking pro, you probably have everything in your pantry!
Ingredients:
2 cups blanched almond flour
1 2/3 cups tapioca flour plus more for rolling the dough
6 Tablespoons raw cacao powder or unsweetened cocoa powder
1 teaspoon fine sea salt
1/4 cup coconut sugar or maple sugar
1 cup + 2 tablespoons grass fed butter cold, cut into pieces (use vegan butter or palm oil shortening for a dairy-free option)
2 eggs
1/2 cup full fat coconut milk
4 oz bittersweet chocolate chopped (I used 70%)
1 tablespoon grass fed butter (palm oil shortening or vegan butter for dairy-free)
1 teaspoon pure vanilla extract
Pinch fine sea salt
1 1/2 cups organic powdered sugar or powdered maple sugar
3 tablespoons raw cacao powder
1 teaspoon pure vanilla extract
3 tablespoons dairy free milk or milk of choice
2 ounces bittersweet chocolate or dark chocolate melted