Lightened Up Chicken Parmesan Lasagna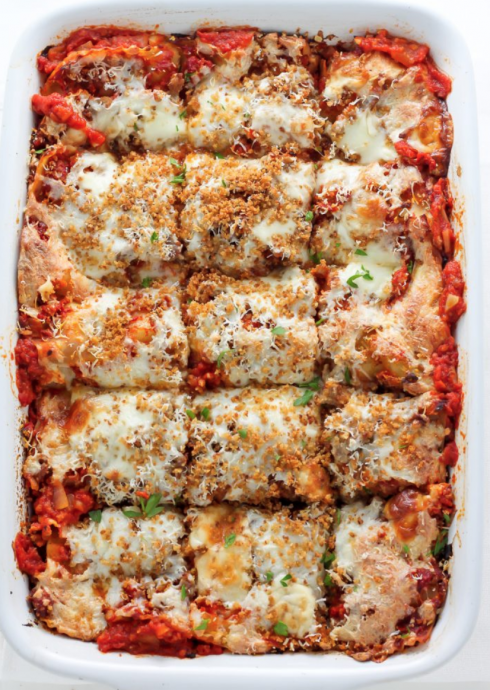 Lightened Up Chicken Parmesan Lasagna is the perfect recipe when you need a hearty crowd-pleasing meal! Made with ground chicken, ricotta cheese, homemade marinara sauce, and gooey mozzarella, it's a flavorful recipe everyone loves! Bonus: it can be assembled up to 24 hours in advance, covered with foil, and stored in the fridge until needed! My family loves lasagna almost as much as they love chicken parm. So last week, when I couldn't decide which one to make for dinner, I did something a little crazy and combined them!
And that's how this amazing chicken parmesan lasagna recipe was born!!! My entire family went bananas over it! And the whole pan was devoured within hours. So gooey, cheesy, saucy, and delicious! It's comfort food to the max! This recipe is so impressive but easy enough to make on a weeknight! And if you're lucky enough to have leftovers, they taste delicious the next day. Or can be frozen!
Ingredients:
For the Ground Chicken:
2 teaspoons olive oil (I used extra virgin but use whatever brand/variety you like best)
3 cloves Garlic, minced
2 teaspoons Italian Seasoning
1/4 teaspoon Crushed Red Pepper Flakes, optional (but they give a nice kick!)
1 lb. Ground Chicken
1/4 teaspoon Salt
1/4 teaspoon Freshly Ground Black Pepper
For the Panko:
1 tablespoon Olive Oil
1/3 cup Whole Wheat Panko Bread Crumbs
For Lasagna:
12 Lasagna Noodles, boiled according to package
2 1/2 cups Ricotta Cheese (I used whole-milk here, but you may use skim)
1 large egg + 1 egg yolk, at room temperature
1/2 teaspoon salt
1/2 teaspoon freshly ground black pepper
1 tablespoon fresh parsley, chopped
2 tablespoons fresh basil, chopped
3 1/2 cups Marinara Sauce, Store-bought or Homemade will work OK
2 cups shredded mozzarella cheese
1/4 cup Parmesan Cheese, finely grated
Garnish:
Fresh Basil and Parsley, chopped