Greek-Style Lamb Burgers with Creamy Tzatziki Sauce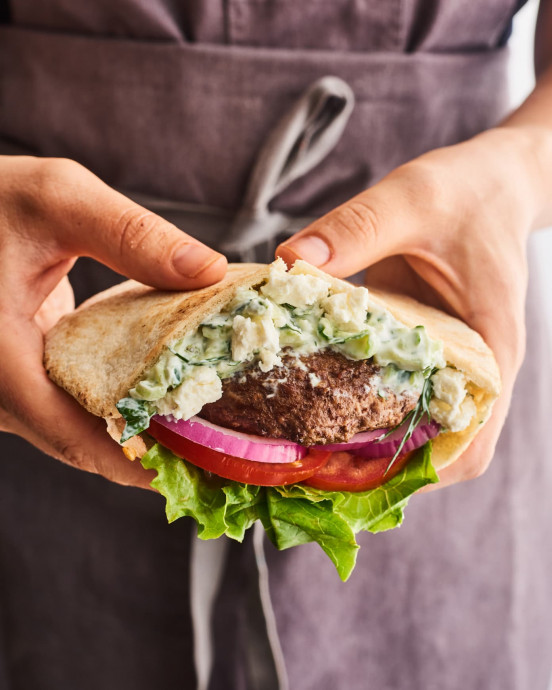 Enjoy a Greek-style lamb burger! This rich, gamey burger is packed with classic Greek herbs and spices — such as cinnamon, coriander, mint, and oregano — which creates a fresh boost of flavor not often found in burger patties. The whole thing is topped with tzatzizki and fresh veggies. Tzatziki is a classic Greek condiment that's often served alongside grilled meats or kebabs, or as part of a mezze platter as a dip for veggies or pita. It's a simple mix of thick strained yogurt, cucumbers, lemon juice or vinegar, garlic, olive oil, and fresh herbs such as dill and mint. What's not to love?
The creamy, rich, and tangy sauce helps round out the hearty lamb in this dish —but you'll love it for more than just burgers. Tzatziki pairs well with almost any summer dish, be it a simple salad, grilled fish, spiced chicken, or even a turkey sandwich.
Ingredients:
For the tzatziki and burgers:
1 cup plain Greek yogurt
1/2 cup grated English cucumber
1 clove garlic, grated
2 tablespoons olive oil
1 tablespoon coarsely chopped fresh dill
Finely grated zest 1/2 medium lemon
Juice from 1/2 medium lemon
Kosher salt
Freshly ground black pepper
3 tablespoons coarsely chopped fresh mint leaves, divided
1 1/4 pounds ground lamb
1/4 cup grated red onion
1 tablespoon chopped fresh oregano leaves, or 2 teaspoons dried
3/4 teaspoon ground coriander
1/2 teaspoon ground cinnamon
2 tablespoons olive oil, if cooking on the stoveop
For serving:
2 pita pockets, halved, or 4 hamburger buns, warmed
Green leaf lettuce
Thinly sliced red onion
Tomato slices
Crumbled feta cheese