Cranberry Upside Down Cake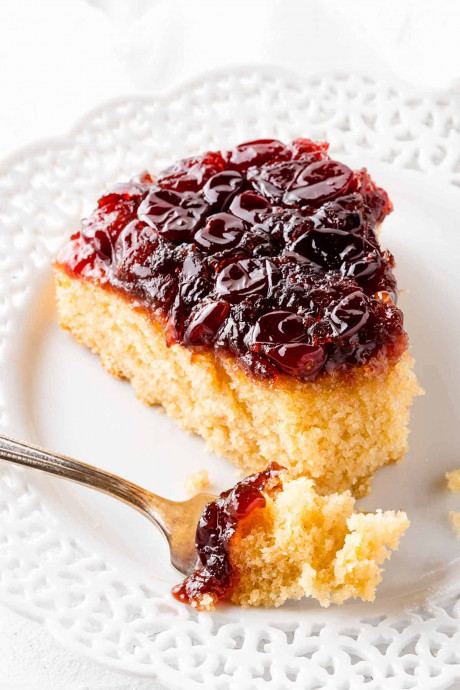 This Cranberry Upside Down Cake is the perfect recipe if you are looking for something special to add to your holiday dessert table! The cranberries not only look gorgeous sitting on top of the cake, but they add a nice, tart contrast to the brown sugar syrup, which soaks into the buttery, rich cake underneath.
If you want to make something a little different (and super impressive!) for this winter, you can't go wrong with this glorious Cranberry Upside Down Cake! The beautiful cranberries on top are super eye-catching, and the tart flavor goes so well with the rich, tender butter cake underneath. Plus, this recipe has lots of brown sugar syrup, which is not only super yummy, but it helps flavor the cake and keeps it nice and moist!
If stored properly in the fridge as described above, the cake will keep for 2 – 3 days. However, I think the cake tastes the best freshly made, and, ideally, when it's still slightly warm from the oven. (It also tastes good at room temperature though!) If you have leftovers and want to enjoy a slice the next day, I recommend microwaving it by the slice, just until it's slightly warm. This will really enhance the tender texture of the butter cake.
Ingredients:
4 tablespoons unsalted butter (½ stick)
¼ cup water
1 cup packed brown sugar (light or dark)
⅓ cup granulated sugar
12 ounces fresh cranberries
Pinch of fine salt
8 tablespoons unsalted butter (1 stick), softened
¼ cup packed brown sugar (light or dark)
½ cup granulated sugar
2 large eggs, at room temperature
1 ½ cups all-purpose flour (scooped and leveled)
⅔ cup milk, at room temperature
½ teaspoon fine salt
1 ½ teaspoons baking powder
1 ½ teaspoons vanilla