Classic Coleslaw Salad + Creative Variations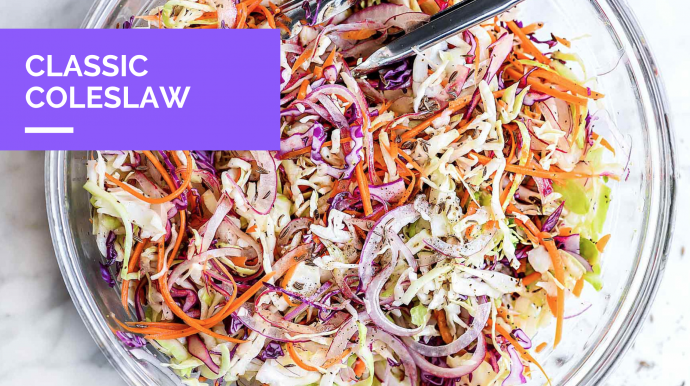 The dressing is so simple, so sweet and tangy, that this timeless cabbage salad – the classic coleslaw - is perfect for any occasion, would it be your next lunch or barbecue. If you are looking for the perfect coleslaw recipe together with some creative variations, look no further because this is it!
Coleslaw is always best if made at least a day ahead, packed into a container with a tight-fitting lid, and refrigerated until serving time. Given this melding time, the cabbage softens and packs down, and all the flavors bond and unify as a team. This will keep for up to a week in a tightly covered container in the refrigerator. To save time, you can buy pre-shredded coleslaw mix in a bag.
Make this vegan by replacing the mayonnaise and yogurt with eggless vegan mayonnaise.
Ingredients
900 g cabbage (purple and/or green), shredded
1 large carrot, coarsely grated
½ cup very finely minced red onion
¾ teaspoon salt
¼ cup olive oil
1/3 cup cider vinegar
¼ cup mayonnaise
¼ cup plain yogurt
1 to 2 tablespoons sweetener (white or brown sugar, pure maple syrup, or a light-colored honey)
Directions
1. Combine the cabbage, carrot, and onion in a very large bowl. Sprinkle with the salt, toss to combine, and set aside.
2. In a second, smaller bowl, combine the oil, vinegar, mayonnaise, yogurt, and 1 tablespoon of the sweetener, and whisk until smooth. Pour this into the cabbage mixture, and toss to mix well. Taste to see if it's sweet enough for you, and if not, add the other tablespoon of «sweetener. Transfer to a container with a tight-fitting lid, cover, and refrigerate. Serve cold.
Tips & Creative Ideas
Add a pinch of celery seed (old-fashioned, and really nice here; buy a small jar just to use for coleslaw).
Add up to 2 cups chopped pineapple—either fresh or canned (packed in water or juice), drained.
Add up to ½ cup dried cranberries or ¼ cup minced fresh cranberries.
Top the coleslaw with up to 1 cup chopped roasted peanuts or toasted walnuts.
Substitute packaged broccoli slaw for some or all of the cabbage.
For a richer dressing, substitute sour cream for some mayonnaise or yogurt.
Garnish with lemon wedges for squeezing on at the table.
In addition to serving this as a side, try packing it into your favorite sandwich.
Bon appetit!