Oven BBQ Beef Brisket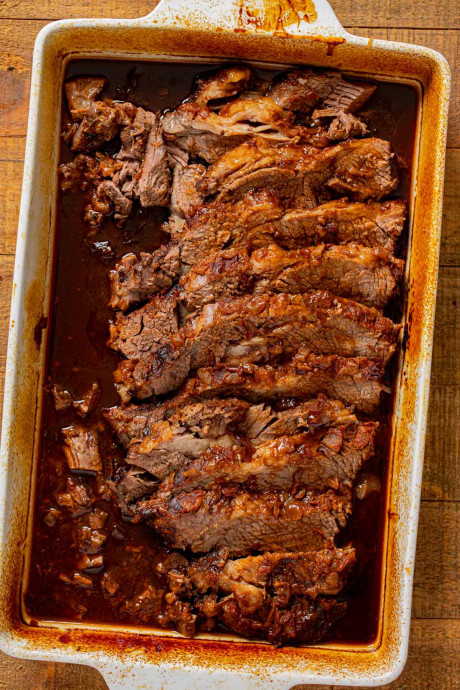 Oven BBQ Beef Brisket is tender, juicy, and smokey. It's just as fork-tender as meat made outside in a smoker, but this recipe is simmered in the oven.When you think of Texas BBQ, Beef Brisket is probably one of the first dishes that comes to mind. Of course, there are other classic dishes like Pulled Pork, but it's tough to beat a Texas-style Smoked Brisket. This recipe is sure to become a go-to dish because it has all that smokey bbq flavor, but you can make the Beef Brisket right in your own oven.
If you're worried cooking brisket in the oven will come out with dry, tough meat, that's not at all the case with this recipe. While brisket meat can be tough if it's not cooked properly, this oven recipe cooks the meat nice and slow so it has plenty of time to absorb the flavor and moisture of the BBQ sauce around it.
The total time to make this recipe is over 4 hours, but practically all of that is hands-off time while the meat cooks in the oven. In fact, all you really have to do is whisk together the BBQ sauce, pour it over the meat, and pop it in the oven. You'll love how the rich aroma of BBQ fills your house while the BBQ Brisket cooks over the next few hours. By the time it's done your mouth will be watering from the delicious smell alone.
Ingredients:
1 cup water
3/4 cup barbecue sauce
1/4 cup soy sauce
4 lbs trimmed beef brisket