Lemon Ricotta Zucchini Pancakes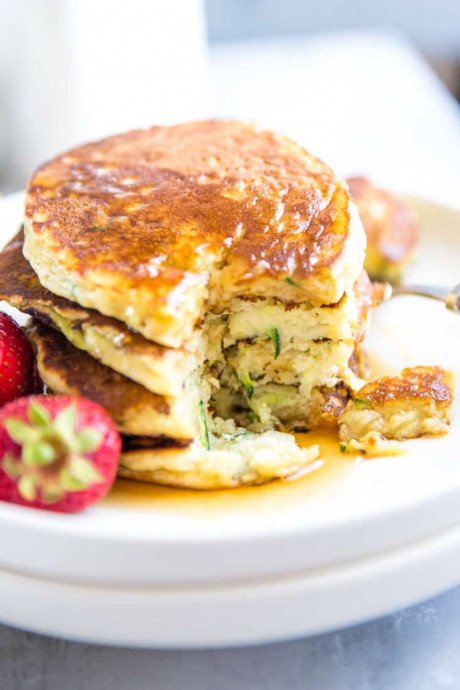 These soft and fluffy zucchini pancakes are bursting with fresh zucchini! With a hint of lemon and moistened with ricotta cheese. These pancakes are worthy of any meal! This recipe combines zucchini pancakes with my favorite lemon ricotta pancakes! Lemons and zucchini's make a fresh combo! The fresh zucchini is speckled throughout each pancake, while the lemon permeates the background. The ricotta cheese is instrumental in creating moist, fluffy pancakes that are to die for!
These pancakes would taste amazing with homemade lemon curd or blackberry jelly! I think this blueberry sauce will make for a nice topping as well. You could also top your pancakes with fresh fruit, fruit-flavored syrup, powdered sugar or plain old maple syrup! Arrange the pancakes in a single layer on a baking sheet and place the baking sheet in the freezer. When pancakes have frozen, stack the pancakes with sheets of parchment paper in between in each pancake. Place the stack in a zip-top bag. The pancake should keep for 1-2 months.
Ingredients:
1 ½ cups flour
3 tablespoons sugar
1 teaspoon baking soda
1 cup shredded zucchini
1 cup ricotta cheese
2 eggs
1 cup milk
The zest and juice from one large lemon
¼ cup melted butter