Creamy Pesto Pasta With Chicken And Broccoli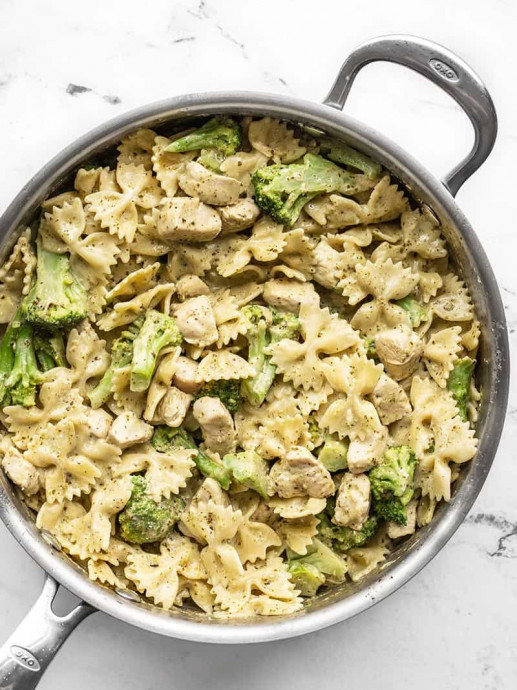 This super quick Creamy Pesto Pasta with Chicken and Broccoli combines the vibrant flavors of basil pesto with tangy cream cheese to make a deliciously rich sauce to smother the pasta, chicken, and broccoli. The pesto provides all the garlic and herbal flavor needed, so there's no need to even dice an onion, mince garlic, or measure any herbs and spices—it's already in the sauce! The whole dish cooks very quickly so you can have this one on the dinner table in about 30 minutes.
Any short shaped pasta, like penne, rotini, or even macaroni will work fine for this recipe. You can use a longer type pasta, like fettuccine or linguine, but it's a little harder to stir chunky ingredients, like the chicken and broccoli, into long pasta. Sometimes breaking it in half before cooking can help. If you're not into cream cheese, you can make a similar creamy sauce by substituting the cream cheese with about a ½ cup heavy cream, or replace both the chicken broth and cream cheese with 1 cup half and half. The sauce will be nice and creamy, but it won't have that tangy cream cheese flavor that some people are not a fan of. You may need to add a pinch or two of salt at the end if you're skipping the chicken broth. This Creamy Pesto Pasta can easily be made vegetarian. Just use a little extra broccoli, substitute vegetable broth for the chicken broth, and you're good to go!
Ingredients:
8 oz. bow tie pasta
8 oz. frozen broccoli florets
1 Tbsp olive oil
1 lb. boneless, skinless chicken breast
1/3 cup basil pesto
1/2 cup chicken broth
4 oz. cream cheese