Caramel Apple Cheesecakes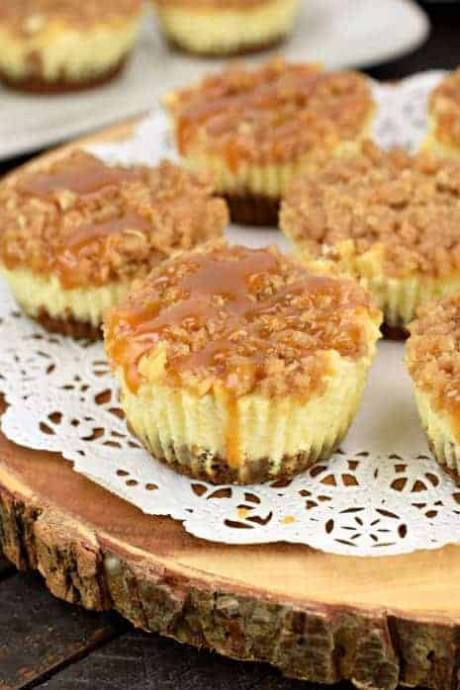 Mini Caramel Apple Cheesecakes are delicious, individual cheesecakes with a brown sugar streusel and caramel glaze. Easy to make too! These mini cheesecakes have everything you crave for fall. They're topped with a delicious brown sugar streusel and caramel glaze. And the best part? They are perfectly portioned, for individual desserts, parties or saving in the freezer for later!
If you love apples, and biting into caramel cheesecake, today's recipe is designed for you! Any good cheesecake recipe deserves a delicious crust. Today I used Gingersnap cookies, I love the spicy sweet kick paired with the apples. But you can also use Nilla Wafers or Graham Crackers if you prefer. These mini cheesecakes should be stored in the refrigerator until ready to serve.
They are best served cold with caramel sauce drizzled over the top. I use homemade caramel sauce, but a thick caramel ice cream topping works too. As for the apples, you really can't go wrong with this recipe. Granny Smith and Gala apples tend to be readily available and both work well. Honeycrisp, Jonagold, and Golden Delicious are all excellent choices as well.
Ingredients:
For the crust
1 ½ cups gingersnap cookie crumbs (about 28 cookies)
5 Tbsp unsalted butter, melted
For the cheesecake filling
2 large apples, peeled and chopped
1 tsp lemon juice
2 packages (8 oz each) cream cheese, softened
¾ cup granulated sugar
2 large eggs
¼ cup plain Greek yogurt
1 tsp vanilla extract
2 Tbsp all-purpose flour
For the streusel
¼ cup quick cook oats
½ cup all-purpose flour
½ cup light brown sugar, packed
½ tsp cinnamon
¼ tsp nutmeg
¼ tsp kosher salt
¼ cup unsalted butter
For the topping