Crispy Air Fryer Dill Pickles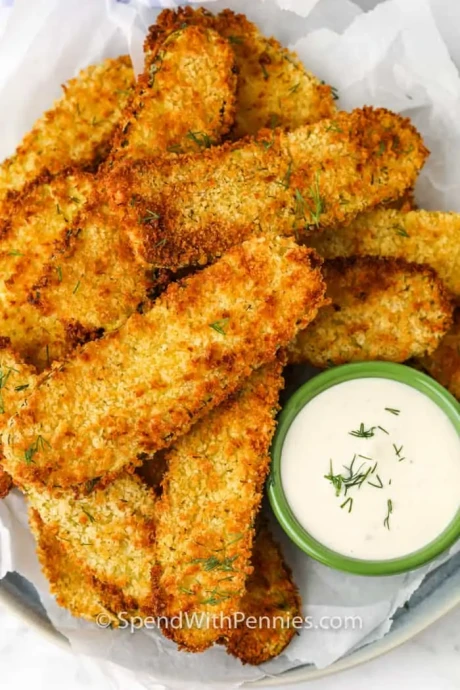 Air fryer fried pickles are crispy and crunchy with lots of great dill pickle flavor and they can be made right at home! Dill pickles are best for this recipe. Ensure your pickle slices aren't too thin. Pickle spears – have the most pickle flavor and are the juiciest because the pickle is thicker.
Pickle chips – or rounds are great for snacking. If making these, cut your own pickles to make them a bit thicker.
Sliced pickles – we love the crunch of these pickles, they have a higher coating to pickle ratio. Slice your own from large pickles to have thicker slices. The ingredients are simple! Choose your favorite shape of dill pickles. I love spears or thick slices. Panko bread crumbs add a great crunch to this recipe although seasoned bread crumbs will work in a pinch. For the low carb version: Ditch the flour and use a bit of almond flour instead. Swap out Panko bread crumbs with a combination of almond flour and crushed pork rinds (season them). Eggs are keto so follow the same steps in the original recipe. Lightly seasoned, breaded, and then air fried, these crispy dill pickles are the perfect appetizer!
Ingredients:
16 dill pickle spears or thick pickle slices
½ cup flour
2 eggs
1 tablespoon water
¼ teaspoon hot sauce such as Tabasco
1 ½ cups Panko bread crumbs
½ teaspoon garlic powder
½ teaspoon dried dill
cooking spray