Mushroom Grilled Cheese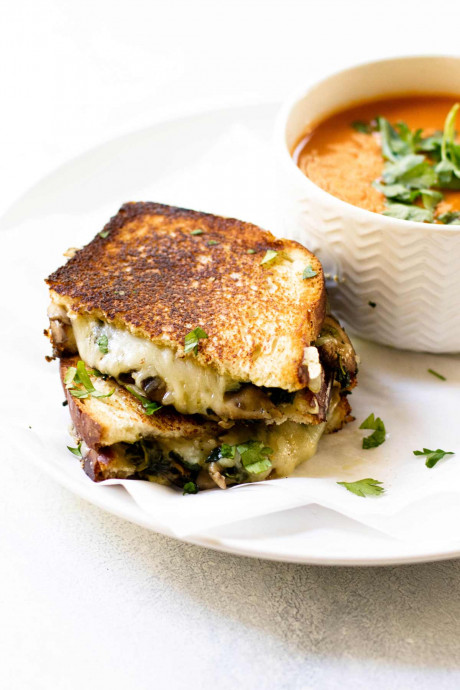 Up-level your sandwich game with this gourmet grilled cheese with mushrooms, spinach and Gruyere cheese. It's a wonderful way to treat yourself for lunch or dinner!
There are "in-a-pinch" sandwiches like peanut butter and jelly, turkey and cheese, or (and this was my favorite growing up) a single slice of bologna in between two slices of wonder bread. Those sandwiches have their place, but it's creations like this mushroom grilled cheese (or mushroom melt) that takes the sandwich-for-lunch concept to a whole new level.
It's basically a grilled cheese sandwich with a gourmet twist and is probably not the best choice to pack in your bag to take to work. But, if you want a decadent bite for lunch on a random Saturday or Sunday this sandwich is for you. Cook those mushrooms in a pan with some butter, herbes de Provence, and spinach. A splash of white wine goes in right at the end. It has the legs to stand alone for an amazing weekend lunch, but pair your gourmet grilled cheese with tomato soup and you'll have what I like to call a next-level lunch.
Ingredients:
3 tablespoons unsalted butter, divided
4 ounces sliced mushrooms
1 teaspoon kosher salt
1/4 tsp herbes de Provence
1/2 cup frozen spinach (see note)
1 tablespoon Chardonnay
4 slices country-style white bread
1 tablespoon Dijon mustard
1 cup shredded Gruyere cheese