Honey-Cinnamon Pumpkin Lentil Salad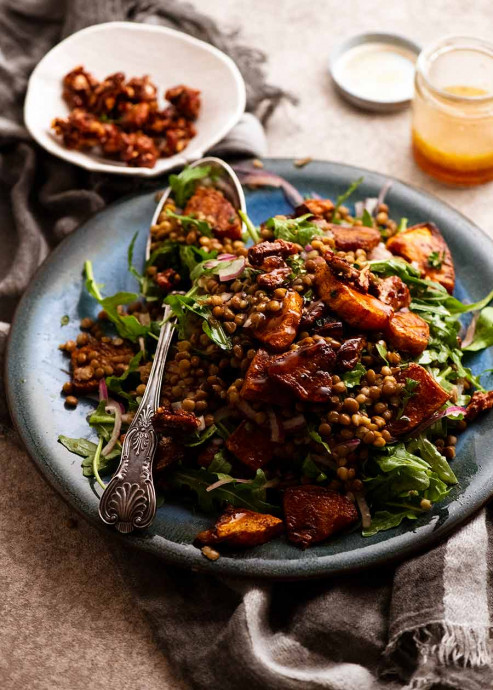 How do you make a Lentil Salad irresistible? Load it up with warm cinnamon-laced pumpkin, a handful of greens, a sprinkling of candied walnuts, and finish with a honey-spiced red wine vinegar dressing. It's earthy, it's sweet, it's savory. There's great textural contrast. But most of all, it's the subtle spicing in it that really adds interest: cinnamon and allspice.
Who knew canned lentils could be so fabulous! For everyday purposes, I would just finish with a handful of plain chopped walnuts. But if you want to go all the way, make Honey-Cinnamon Candied Walnuts. It's that extra-special touch that bumps this salad up into the Company-Worthy category! All you need to do is toss walnuts with honey, cinnamon and salt, then bake for 15 minutes. Cool to crisp, and you're done! This Lentil Salad is a great meal-worthy salad option or work lunch idea. Meat-free, nutritious, filling, and it keeps well for a few days. Plus, I like that it's an interesting way to use canned lentils which, let's face it, isn't always the most inspiring thing in the pantry!!
Ingredients:
CINNAMON PUMPKIN:
400g / 14 oz pumpkin or butternut squash (pre-peeled weight), peeled then sliced in 1cm / ½" thick slices then bite size wedges
2 tbsp extra virgin olive oil
1 tsp cinnamon
1/2 tsp all spice
1/4 tsp salt
SALAD:
800g/ 28oz canned lentils, well drained & patted dry
2 cups (packed) rocket/arugula leaves (preferably baby, otherwise hand-tear large ones)
1/2 red onion , finely sliced
3 tsp fresh thyme leaves
HONEY WALNUTS (OPTIONAL, CAN JUST USE PLAIN WALNUTS):
3/4 cup walnuts (or pecans)
1 1/2 tbsp honey (must be runny, so warm if super-thick), or maple syrup
1/4 tsp cinnamon
Pinch of salt
DRESSING:
2 tbsp red wine vinegar
2 tbsp honey
4 tbsp extra virgin olive oil
1 garlic clove (small), finely grated
1/4 tsp allspice powder
1/4 tsp ginger powder
Salt and pepper