Blooming Onion Bites with Dipping Sauce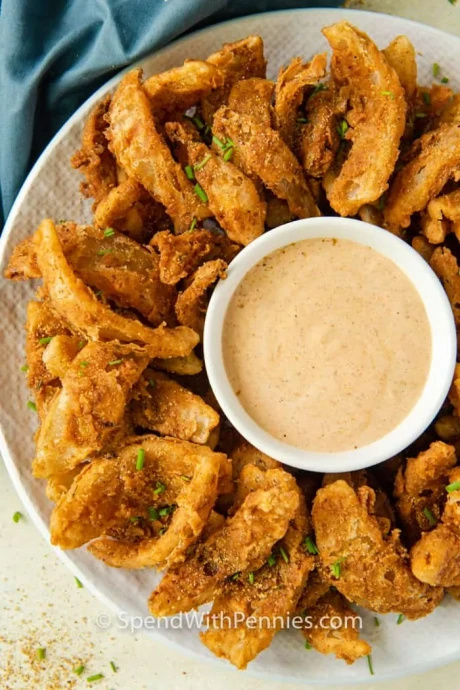 Take a trip to the Outback in your own kitchen with this homemade, super easy recipe for blooming onion bites! These petals have all of the flavor of our favorite blooming onion but the individual pieces are easier to cook (and eat) at home. Make a batch just in time for the big game or movie night— we even included the recipe for the sauce!
A blooming onion is an onion that is cut into wedges (most of the way through) and battered and deep-fried. Think of it as a big huge onion ring. While we love ordering this appetizer to share with a crowd at a restaurant, they can be large and difficult to handle at home. We love cutting the onion into individual petals: they're easier to cut with no special tools required, they're easier to deep-fry and don't require as large of a pot of oil, we love how the entire strip of onion is evenly coated and crispy, they're great to serve a crowd, it's easier for people to grab a few petals rather than trying to pull off of the big onion. Fresh sweet onions are coated in a seasoned batter and then deep-fried in oil and served with its own special sauce.
Ingredients:
1 large sweet onion or 2 medium onions
2 cups all-purpose flour
1 tablespoon paprika
1 teaspoon cayenne pepper
1 teaspoon ground cumin
½ teaspoon thyme
½ teaspoon oregano
½ teaspoon ground black pepper
2 large eggs
1 cup milk
½ cup water
oil for frying
seasoned salt
Dipping Sauce
3 tablespoons mayonnaise
3 tablespoons sour cream
2 teaspoons ketchup
1 tablespoon horseradish mayo sauce or regular horseradish
½ teaspoon Worcestershire sauce
½ teaspoon paprika
¼ teaspoon cayenne pepper
¼ teaspoon black pepper