Tuna Stacks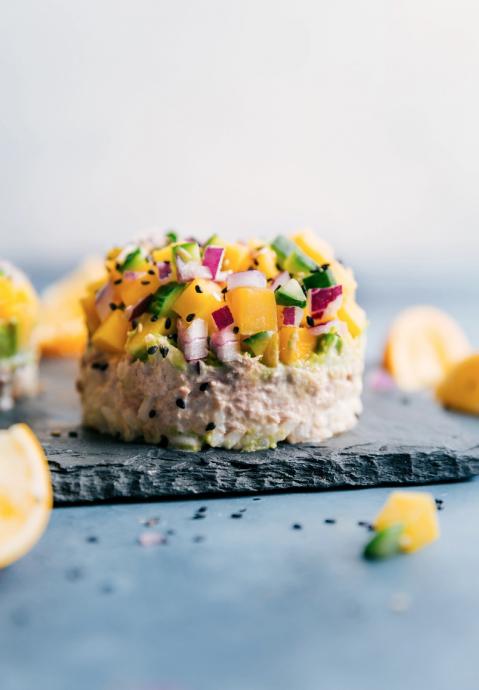 These simple Tuna Stacks are an explosion of flavor! We use a 1 cup measuring cup to quickly assemble these stacks which have four easy layers: a simple cucumber mango salad, creamy avocado, lemon-olive oil tuna, and sweet white rice.
Drizzling on some soy sauce and an easy sriracha mayo sauce takes them to the next level. Satisfy your sushi cravings easily from the comfort of your home! Use canned tuna packed in olive oil for the best flavor.
To tell if an avocado is ripe, press gently around (not on) the stem and if it gives, the avocado is ripe (the "give" should feel like pressing the tip of your nose). No part of the avocado should be mushy to touch. (This means it's overripe) To tell if a mango is ripe, always judge by feel. Squeeze the mango gently; a ripe mango will give slightly (overripe will squish down). Also, here's a great guide on how to cut a mango! We have Tuna Stacks so often for lunches that I will make a huge batch of rice at the beginning of the week to use. If you don't have to cook the rice, these come together very quickly.
Ingredients:
1/2 cup (98g) uncooked white rice + 1 cup water (207g)
2 tablespoons rice (or rice wine) vinegar
1 large ripe mango (~1-1/4 cup; 194g)
1/2 cup (70g) Persian or English cucumber (~1/2 English cucumber, 1 Persian cucumber)
1/4 cup (31g) diced red onion (~1/4 of an onion)
1 large ripe avocado
1 large lemon (juiced), juice divided
5 ounce canned tuna packed in olive oil, well-drained
1/2 cup (100g) regular mayo, divided (we love Hellman's/Best Foods)
1.5 teaspoons Sriracha
3-6 teaspoons low sodium soy sauce
Optional: fine sea salt & pepper, sesame seeds (I used black and white)