Chocolate Covered Almond Butter Balls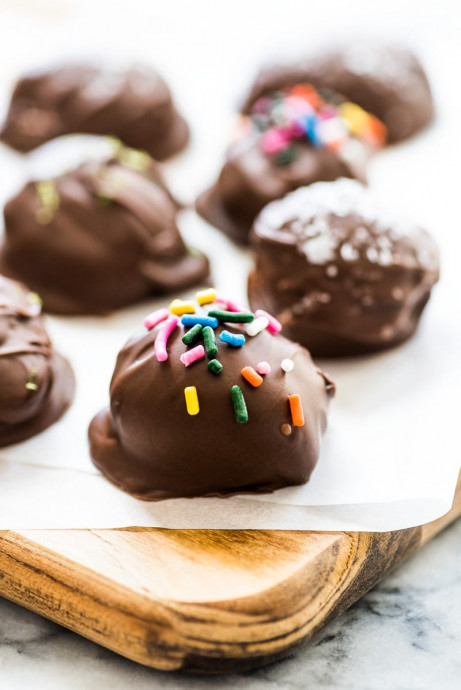 I'm always looking for easy healthy dessert recipes to make and this is pretty much the ultimate of all the easy and healthy desserts. Made with only 3 ingredients, these nut butter balls are gluten-free, grain free, paleo, vegetarian, vegan and contain no added sugar. And did I mention they require no baking?
Ingredients for chocolate covered almond butter balls are very simple! Just mix together the almond butter and coconut flour until a thick almond butter paste forms and you're two thirds of the way there! No need for powdered sugar or butter.
One of my favorite things about the almond butter balls are the toppings! There are so many possibilities, here's a few to give you some inspiration: lime zest, orange zest, espresso powder, shredded coconut, crushed up cookies (like Oreos!), chopped almonds, dried fruit. These chocolate covered almond butter balls are made with only 3 ingredients and are the perfect healthy dessert!
Ingredients:
3/4 cup almond butter
1/4 cup coconut flour
1 cup chocolate chips
optional toppings: sea salt, lime zest, sprinkles