Chicken Stroganoff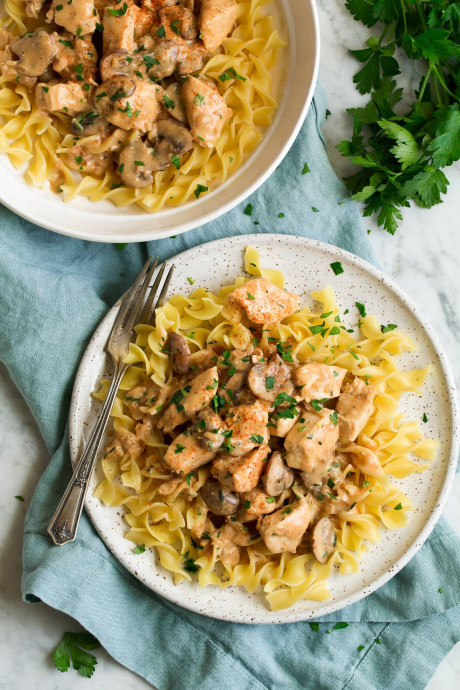 Chicken Stroganoff – deliciously rich and much like beef stroganoff but made with chicken breasts (or thighs) instead. Includes savory browned onions and mushrooms, vibrant garlic and a creamy, tangy sauce, all of which is layered over a bed of tender egg noodles. Hearty, homestyle comfort food that's perfect for busy nights!
This delicious chicken stroganoff is made with a handful of ingredients, many of which are fresh to build up that delicious depth of well rounded flavor. And I should mention – there's cream cheese! Isn't everything better when cream cheese is involved?
To finish the dish, pile it over egg noodles or rice, then maybe opt to serve with a side of roasted broccoli or Brussels sprouts and you've got a simple meal worthy of completely satisfied dinner praises!
Try different variations: try sour cream in place of cream cheese. Use chicken thighs in place of chicken breasts. For another layer of tang, include 2 tsp dijon mustard. Make it spicy by including cayenne pepper to taste. Finish with lemon zest for bright fresh flavor. Try with other herbs that pair well with chicken such as rosemary, marjoram, or sage. If you'd like another layer of flavor substitute 1/2 cup dry white wine in place of 1/2 cup of the chicken broth.
Ingredients:
1 1/4 lbs. boneless skinless chicken breasts, cut into 1-inch pieces
1 Tbsp olive oil
Salt and freshly ground black pepper
3 Tbsp unsalted butter
1 small yellow onion, finely chopped (1 cup)
2 garlic cloves, minced (2 tsp)
6 oz. cremini mushrooms, sliced
1 1/2 cups + 2 Tbsp low-sodium chicken broth, divided
4 tsp cornstarch
2 tsp fresh thyme leaves (or 1/2 tsp dried)
1/2 tsp paprika, plus more for serving
4 oz. cream cheese, cut into 6 pieces and softened
2 Tbsp chopped fresh parsley
Cooked Egg noodles or white rice for serving (not included in nutrition estimate)