Sidney's 4-Ingredient Banana Pancakes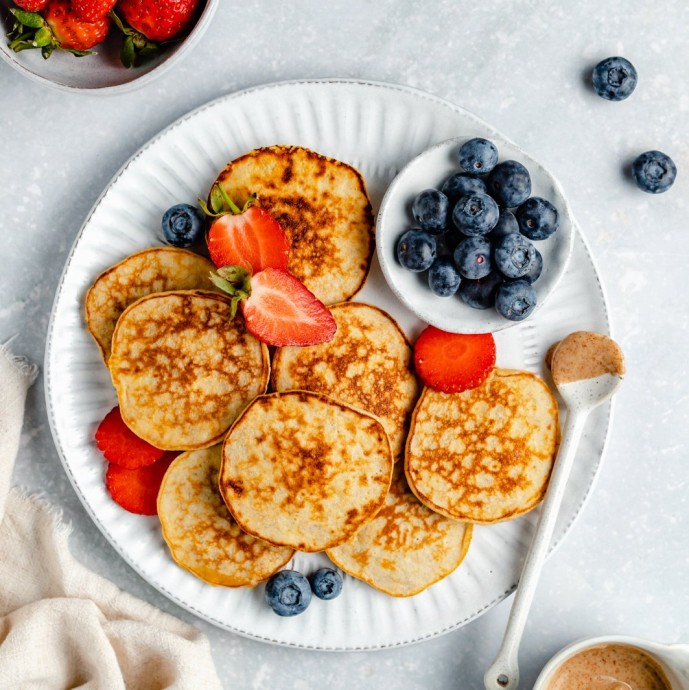 Baby and kid-friendly banana pancakes made with four simple ingredients! These simple baby pancakes are dairy free, grain free and gluten free, high in protein & fiber, and naturally sweetened. The perfect nutritious breakfast for kids (and adults) of all ages! These pancakes are baby friendly, toddler friendly, but most importantly delicious and nutritious for kids (and adults) of all ages. Sidney prefers to devour them with a little peanut butter on top.
You probably already have these 4 simple ingredients in your kitchen to make these banana pancakes that are perfect for babies, toddlers, kiddos and even adults. They're healthy, nutritious and so much fun to make. Plus, there are easy ways to customize them to your little one's needs. Banana: you'll just need one medium ripe banana in this recipe. Be sure to use one with lots of brown spots to perfectly sweeten the pancakes and make them soft enough for your little one. Eggs: these baby banana pancakes also have two eggs for the perfect boost of protein. I do not recommend flax eggs or any other sub, sorry! Coconut flour: I love using coconut flour in these pancakes to keep them grain & gluten free while adding healthy fats, but I've also made them with oat flour, almond flour, whole wheat flour and all purpose. See my notes in the recipe itself. Milk: feel free to use any milk you'd like. We prefer dairy free but regular milk or even breastmilk will work just as well. I hope you give these pancakes a try (no matter what your age) and let me know how you like them by leaving a comment & rating the recipe!
Ingredients:
1 medium ripe banana (best with brown spots)
2 eggs
2 tablespoons coconut flour*
1 tablespoon milk of choice (we use dairy free milk)