Baklava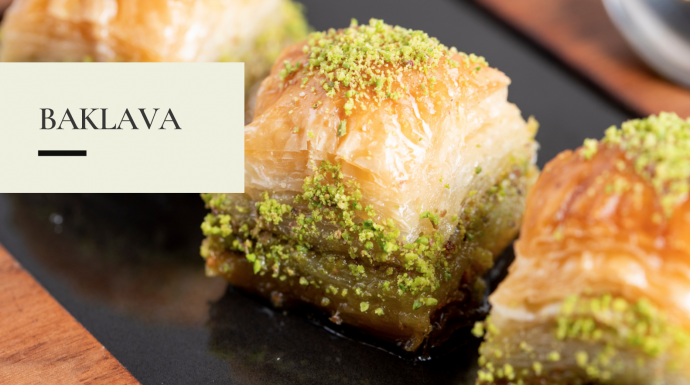 Baklava - sticky sweet pistachio filling with walnuts and a flaky phyllo crust! This traditional Turkish (or Greek?) dessert may seem fancy and difficult to make, but it is actually quite easy. And it just looks fancy! Crisp and tender, flaky and delicious, this baklava will surely impress! It's a great make-ahead heavenly dessert!
Ingredients
1 cup sugar
1 cup water
2 tablespoons agave
1 teaspoon pure vanilla extract
1⁄2 cup walnuts
1⁄2 cup shelled pistachios
1⁄2 cup brown sugar
1 teaspoon ground cinnamon
1⁄2 cup vegan margarine, melted
1 pound phyllo dough, thawed according to package directions (see tip), and trimmed to fit in a 9 x 13-inch pan
Directions
Step 1
Preheat the oven to 350 degrees.
Step 2
In a medium saucepan, combine sugar, water, and agave. Bring to a boil and let cook on medium-high for 20 minutes. Remove from heat and stir in vanilla. Set aside and let cool.
Step 3
In a food processor, combine walnuts, pistachios, brown sugar, and cinnamon. Pulse until coarsely chopped and set aside.
Step 4
Lightly brush a 9- x 13-inch rimmed baking sheet with melted margarine. Lay 2 sheets of phyllo dough in the baking sheet. Brush with melted margarine, and layer 2 more sheets of phyllo. Repeat this process so that there are 6 sheets of phyllo in the baking sheet.
Step 5
Brush the top layer with melted margarine and sprinkle with about 1⁄2 cup of the nut mixture. Layer 2 more sheets of phyllo on top of the nut mixture and brush the top with melted margarine.
Step 6
Repeat this process, layering 1⁄2 cup of the nut mixture and 2 sheets phyllo, until you have used all of the nut mixture. The top phyllo layer should have about 6 to 8 sheets of phyllo, brushed with melted margarine between every 2.
Step 7
Before baking, use a sharp knife or pizza cutter to slice diamond or square pieces. Bake for about 45 minutes until golden.
Step 8
Remove from oven and pour the sugar syrup evenly over the baked pastry. Let sit, uncovered, until completely cooled, and serve.
Tip: Phyllo Dough
Phyllo dough can be found at your local grocery store, in the freezer section, near the piecrusts. Thaw frozen packages of phyllo dough according to package directions. After unwrapping a package of phyllo dough, immediately cover the phyllo sheets with a slightly damp towel so that they do not dry out. Don't sweat it if the phyllo sheets tear and wrinkle. Imperfections will not be noticeable on the finished product. This is part of making a rustic flaky pastry!
Bon Appetit!
Do you like Baklava? Have you ever cooked it at home?