Soft Lucky Charms Cookies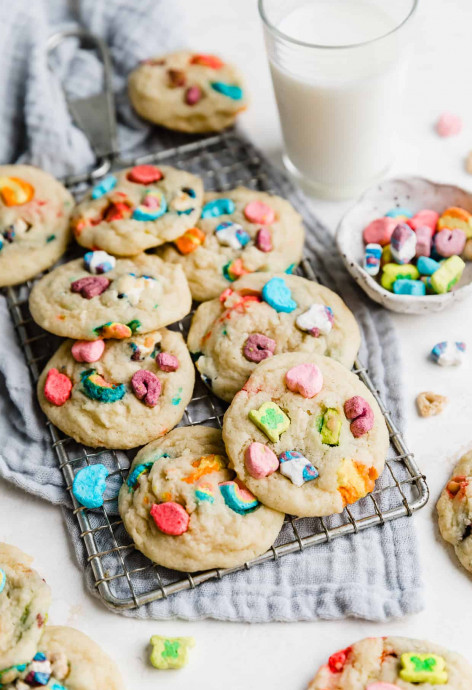 These fun Lucky Charms cookies are perfect party cookies for you and your entire family. They have a delicious sugar cookie flavor and are filled and topped with the iconic Lucky Charms marshmallows. I love finding fun ways to celebrate holidays with my kids. I get a lot of joy out of seeing my kids get excited about little things — and making these fun sugar cookies is one of them. Lucky Charms cookies are a sugar cookie base with the marshmallows from the Lucky Charms cereal. We add some of the marshmallows inside and on top of the cookies for an extra festive look!
Now you're probably asking yourself, are Lucky Charms actually Irish? The cereal was created by John Holahan at General Mills in 1964, who, according to the Irish Post, was Irish-American. However, General Mills is an American company. So, technically they aren't Irish. Be sure to set aside some of the marshmallows to press into the cookies once you take them out of the oven. The marshmallows inside of the cookies will melt during baking time, so this will give it a more noticeably festive touch. Dip half of the cookie in a green-colored white chocolate and let harden on wax paper for a fancier display — plus, yum! Make them into ice cream sandwiches by using mint ice cream for an extra festive and delicious treat!
Ingredients:
1 cup unsalted butter - softened
1 1/4 cups granulated sugar
1 egg - at room temperature
2 teaspoons vanilla extract
2 1/2 cups all purpose flour
1/2 teaspoon baking soda
1/2 teaspoon baking powder
1/4 teaspoon salt
2 cups Lucky Charms marshmallows