Chicken Alfredo Pizza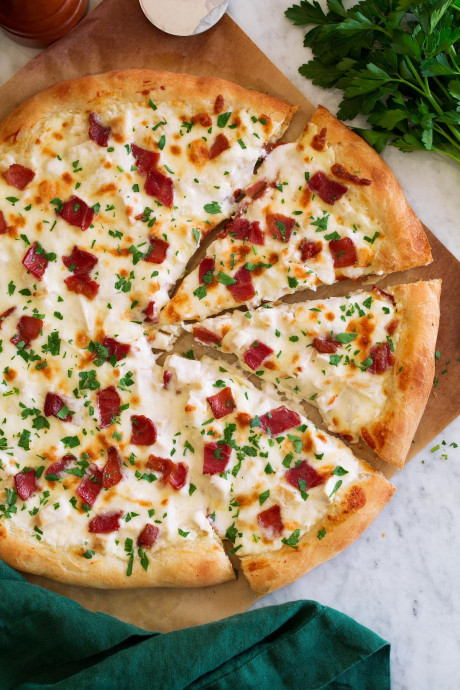 Alfredo Pizza! A soft and chewy pizza crust is topped with creamy alfredo sauce, tender chicken pieces, rich mozzarella, and flavorful bacon. All the best flavors coming together to create something undeniably delicious in pizza form! How could it not be good? It's three irresistible comfort foods in one. Pizza, chicken alfredo and bacon – talk about rich indulgence that everyone will love! If you want to simplify the recipe you can use store-bought pizza dough. But as least look for something freshly made from the deli if possible, it tastes so much better.
Try different variations of this pizza! Cook the pizza on the grill. If doing so, grill uncovered pizza dough on bottom side, flip then add toppings and continue to grill until crust is done. Try adding veggies. Spinach or mushrooms are a great option. Make a chicken cordon bleu variation. Add ham in place of bacon and half Swiss cheese in place of mozzarella.
Ingredients:
2 Tbsp butter
1 1/2 tsp minced garlic (1 large clove)
1 Tbsp flour, plus more for dusting
2/3 cup heavy cream
2/3 cup whole milk
1 cup (2 oz) finely shredded Parmesan cheese
Salt and freshly ground black pepper
1 lb. pizza dough, homemade or store-bought
1 1/2 cups chopped rotisserie chicken or grilled chicken
1 cup shredded Mozzarella cheese (4 oz)
5 slices bacon, cooked and chopped
1 Tbsp olive oil
1 1/2 Tbsp chopped parsley or green onions