French Onion Baked Chicken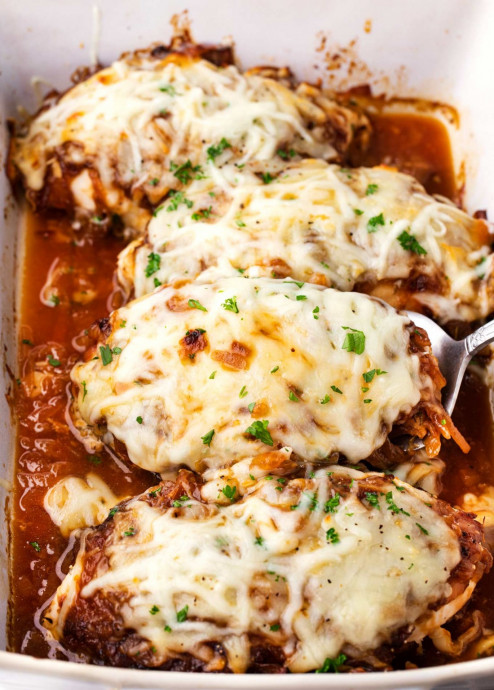 Juicy chicken breasts absolutely smothered in saucy caramelized onions and loads of gooey cheese! Easy to prep ahead, and a great family dinner option when you just can't handle another boring meal. The French Onion Smothered Pork Chop recipe doesn't use traditional caramelized onions, and I knew I wanted to share a recipe that would use true caramelized onions, in all their jammy goodness!
Enticingly sweet and savory, this baked chicken recipe is absolutely amazing and so easy to make. The onions take a long time to cook, but they can be prepared days ahead of time. In terms of steps, it's very simple! The hardest part is caramelizing the onions, and that's really just a test of your patience. Try different variations! One Pan – if you have an oven-safe skillet, you can make this dish entirely in one pan! See the recipe notes section below (after the written recipe) for details. Seared – if you prefer, you can sear the chicken breasts before or after cooking the onions. This adds extra flavor, but isn't necessary. Other protein – this recipe is fantastic with pork chops or even steak! Leftovers should be refrigerated and consumed within 2-3 days for best flavor.
Ingredients:
3 Tbsp butter
2 tsp olive oil
4-5 large yellow or white onions peeled and sliced in half
1/4 tsp black pepper
2 sprigs fresh thyme (or 1/2 tsp dried)
3 cloves garlic minced
1 Tbsp balsamic vinegar (or red wine or sherry)
2/3 cup reduced sodium beef broth divided
4 boneless skinless chicken breasts
1/2 tsp kosher salt
1/2 tsp black pepper
1/2 tsp dried thyme
1 tsp garlic powder
1 cup shredded mozzarella or gruyere
1/3 cup shredded parmesan (fresh is best)