Homemade Sweet Cherry Pie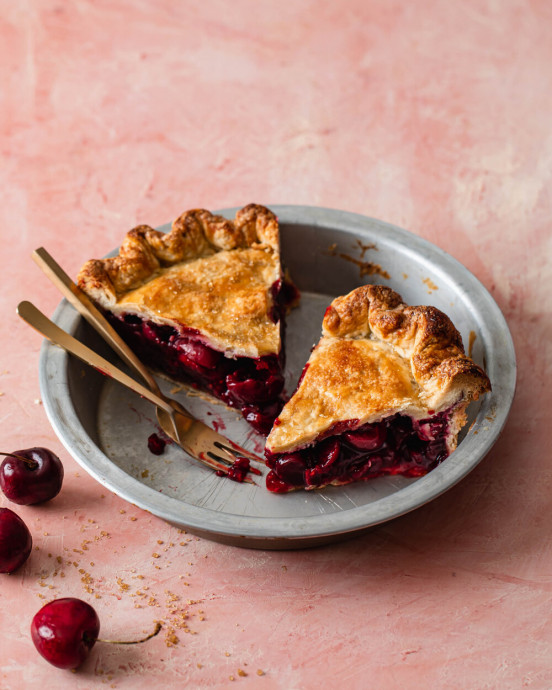 Today we are tackling an amazingly delicious treat: Homemade Sweet Cherry Pie. Made from fresh cherries, tart raspberries, and an all-butter pie crust, this recipe skips the canned filling and boxed crust in favor of juicy, seasonal cherries and the flakiest, golden pastry. Vanilla ice cream optional, but highly recommend! The filling of this pie is wonderful! Halved cherries make the best pie chilling. They are large enough that they still keep their shape when baked, but they are small enough to get all sweet and juicy. You do not need to pre-cook the fruit before adding it to your pie crust. Cherries can be quite sweet and one-dimensional. To add balance and intrigue, I mixed the cherries with raspberries. When baked, the raspberries break down more than the cherries and leave tart, jammy pockets that burst with flavor in each bite. Frozen raspberries work great here. Do not thaw before using, just simply fold them into the filling at the end. A pinch of cardamom and squeeze of fresh lemon brighten up the entire pie. If you don't have cardamom, feel free to substitute it with ground ginger or simply leave it out.
And the pie crust is super flaky! It's easy to over-mix pie dough in a food processor. Making pie dough by hand gives you the most control over your dough. For the biggest flakes, you want the dough to have visible pieces of butter that are marbled throughout. Keeping the butter and water extra cold helps the butter from over-combining with the flour. As the oven pre-heats, chill the prepared pie. This way, as the cold butter pieces in the dough hit the heat of the oven, they begin to melt. As the water content evaporates, they create little pockets of steam throughout that turn into the crispy flakes of crust that we love so much.
Ingredients:
3 cups fresh cherries, pitted and halved
2/3 cup brown sugar
3 tablespoons cornstarch
1 tablespoon all-purpose flour
1 teaspoon ground cinnamon
1/2 teaspoon ground cardamom
1/4 teaspoon salt
1 tablespoon fresh lemon juice
1 1/2 cups frozen raspberries
1 egg
splash milk for egg wash
sugar for sprinkling