John Wayne Casserole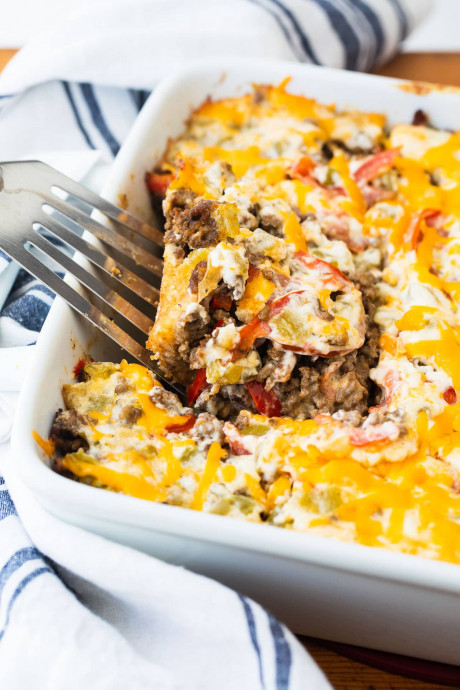 John Wayne casserole is cozy comfort food at its best. You're going to love the Southwestern flavor of this hearty family classic. This is one of my favorite easy ground beef recipes! John Wayne Casserole is an easy ground beef casserole recipe with a biscuit base and loaded with diced tomatoes, corn, taco seasoning, cream cheese, mozzarella and cheddar.
This simple and flavorful casserole is sure to please the whole family. This ground beef casserole recipe takes about an hour from start to finish and serves six people. You're going to love this tasty ground beef casserole recipe. I like to serve this delicious casserole with tomatoes on top. When I say this meal was the bomb, I mean it! I was seriously licking my plate! Try it, you'll love it! Creamy and spicy, this classic John Wayne casserole is the ultimate family meal or potluck dish.
Ingredients:
2 pounds ground beef, browned, crumbled and drained
1 1-oz. packet taco seasoning
¾ cups water
1 small onion, sliced thin in about 1 inch pieces
1 red bell pepper, sliced thin in about 1 inch pieces
2 ¼ cups Bisquick mix
⅔ cup water
½ cup mayonnaise
½ cup sour cream
8 ounces sharp cheddar cheese, shredded and divided
2 Roma tomatoes, sliced thin
1 4-oz. can green chiles