Super Easy Pizza Pasta Bake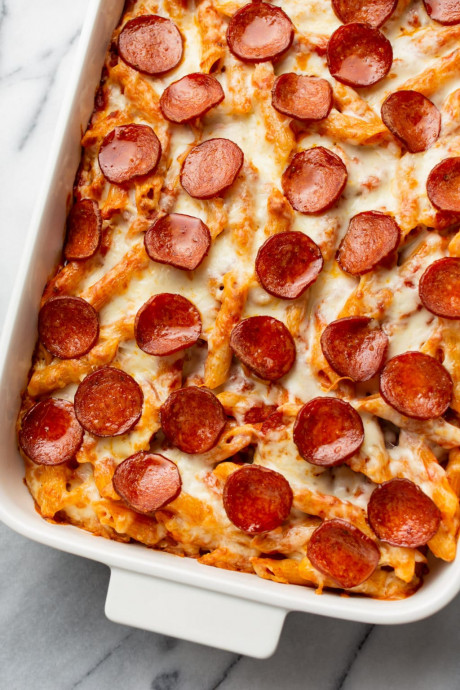 This cheesy pepperoni pizza pasta bake is super simple with only 4 ingredients. It comes together fast, and it's family-friendly! This pizza casserole is one of those recipes that's great when you're low on time and patience but still want something hot and comforting. It makes a generous amount, and it's fairly inexpensive, so that's another bonus.
Use your favorite brand of jarred marinara sauce. Or sub with another tomato-based pasta sauce (vodka sauce, arrabbiata, etc.), or even pizza sauce.
Since this recipe only uses a handful of ingredients, the quality of the ingredients definitely matters, so be sure you buy a good quality pepperoni, for example, or a pasta sauce that you genuinely enjoy. Or use homemade marinara. If you've got picky eaters, this recipe is definitely worth a try. I'd say it's absolutely kid-friendly. Sauté some crumbled Italian sausage and/or mushrooms, onions, and garlic, and add it in. Then you can get more of a meat lover's style pizza casserole. You could definitely throw in some cooked veggies if you wanted to. Or some olives! Stir some red pepper flakes into the marinara for a spicy kick. And/or add some garlic powder and dried oregano to up the flavor. Switch up the cheeses - a mozza/cheddar blend would work great or a Tex-Mex blend to change it up a bit. Or add in an extra cup or so of freshly grated parmesan cheese to make that cheese layer even better.
Ingredients:
1 pound uncooked penne
3 cups (24 oz.) marinara sauce see note
10 ounces sliced pepperoni
2 cups shredded mozzarella cheese