The Best Juicy Skillet Pork Chops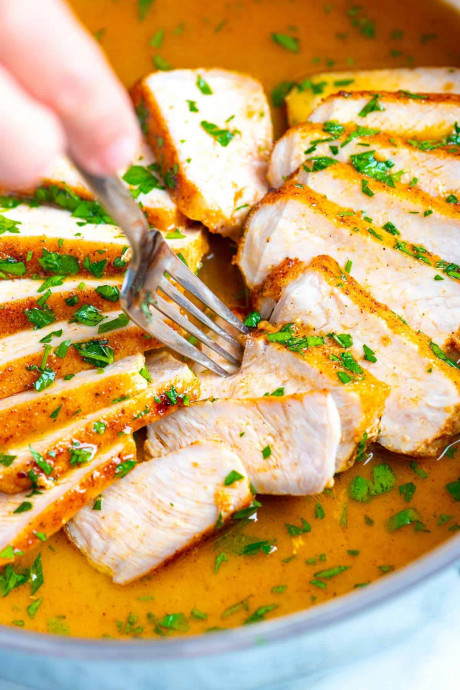 Say goodbye to dry and flavorless pork chops. With a few simple tricks, you can make juicy and tender pork chops with very little fuss. I love how juicy these are! Pork is done when an internal thermometer reads 145 degrees F. Depending on how thick the chops are, you might need to subtract or add a few minutes from the suggested cook times.
Don't cook chops straight from the refrigerator. Thirty minutes before you plan to cook, take the chops out of the fridge. The time out of the refrigerator lets you bring the meat up to room temperature, which helps the pork cook more evenly throughout. Use this trick for other cuts of meat like pork tenderloin or steak. Season the chops with salt half an hour before cooking. This way, the salt has a chance to improve the flavor and texture of the meat. Pork chops are pretty lean, so seasoning with salt before cooking is essential for making the most flavorful chops.
A perfect dish to serve with a variety of sides. Try one of these side dishes to go alongside. The colorful coleslaw would be perfect and adds lots of crunch. With a generous amount of acidity from apple cider vinegar and Dijon mustard, our favorite coleslaw is anything but dull. Add a healthy, low-carb side of mashed cauliflower. It takes about 20 minutes and would be excellent served with the pork. For a more traditional side, give our favorite homemade mashed potatoes a try.
Ingredients:
4 pork chops, about 1-inch thick and 6 to 7 ounces each, see notes
Salt, to taste
1 tablespoon all-purpose flour
1 teaspoon chili powder, see our homemade chili powder recipe
1 teaspoon garlic powder
1 teaspoon onion powder
1/2 teaspoon smoked paprika
1/2 teaspoon ground black pepper
1 tablespoon olive oil
1 cup low-sodium chicken stock, see our homemade chicken stock recipe
1 tablespoon apple cider vinegar
2 teaspoons honey or brown sugar
1 tablespoon butter
2 tablespoons chopped fresh parsley, optional