Potato Pie with Bacon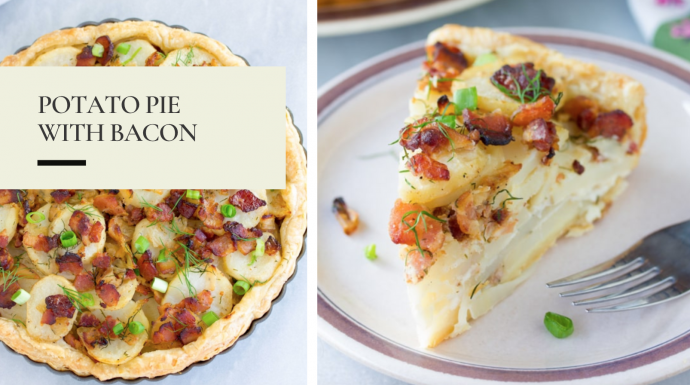 This impressive potato pie is hearty, easy to make, ultra comforting, and really versatile - it tastes great hot, warm or cold, so you can make it well ahead if you need to. Crispy crust layered with potatoes, onions, and bacon make a great combination for an irresistible side dish or appetizer. A simple potato pie recipe for you to cook a great meal for family or friends. Enjoy!
Ingredients
Pastry for a 9-inch single crust pie (store-bought)
4 tablespoons butter
7 slices bacon (thick-cut slices), chopped
5 potatoes, (or 4 large) peeled and sliced thin
1 onion, peeled and sliced thin
1 tablespoon fresh dill
1/2 cup heavy cream
Salt and pepper
Chive for garnish
Directions
Step 1
Preheat the oven to 350 F. Line a 9-inch pie pan with crust and then crimp the edges decoratively. Remove the excess dough and piece it along the rim if needed to make the rim even in some places. Refrigerate the crust until ready to fill.
Step 2
Place the butter and bacon in a large skillet over medium-high heat. Sauté until the bacon is crispy then toss in the onions, followed by the potatoes and dill. Season with 1/2 teaspoon salt and 1/4 teaspoon ground pepper.
Step 3
Gently stir 3-5 minutes,to mix the onions and potatoes and coat in bacon grease. (The potatoes don't need to be cooked through.) Then spoon the mixture into the crust and drizzle with heavy cream.
Step 4
Bake on the low rack until the filling is puffed up, the potatoes are fork-tender and the crust is golden and fairly firm, 35 to 45 minutes. Place the pie on a cooling rack or a folded kitchen towel and let cool to room temperature, then sprinkle with chopped chive and cut.
Bon appetit!