Corned Beef Hash and Eggs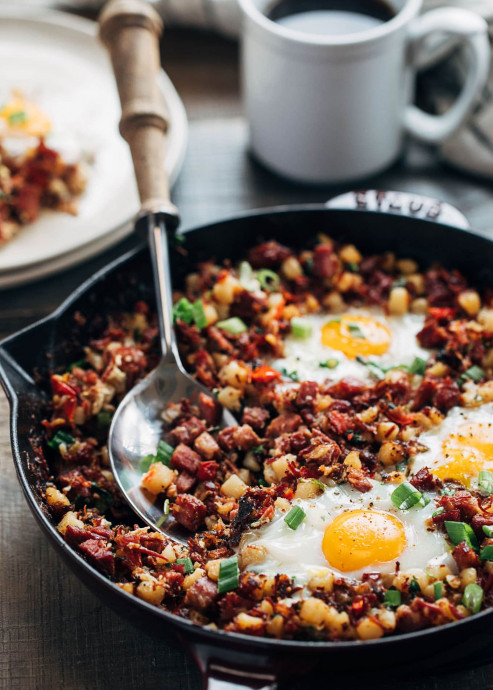 Crispy, buttery Corned Beef Hash and Eggs is an easy way to turn leftover corned beef into a hearty breakfast skillet. This buttery corned beef hash recipe is the perfect contrast to soft, baked eggs. There's nothing like letting the velvety yolk pool into the crispy hash. It's one of those little things in life that's simply everything. Generally-speaking, breakfast hash is a dish that is made by frying together leftover meat with potatoes. Its name derives from the French hacher, which means "to chop." Rooted in Britain and Europe, corned beef hash became popular in America during World War II, when fresh meat was rationed. Using canned corned beef, it was a hearty and economical meal. In addition to the meat and potatoes, onions are a standard addition to corned beef hash recipes. I also like to include a little chopped bell pepper, scallions, and fresh herbs to brighten the dish a bit.
To make a great corned beef hash and eggs, a few techniques are key. I use a cast iron skillet to get the crispiest edges on the meat and potatoes. For the best flavor, I always fry my corned beef hash in butter. Corned Beef Hash is a great dish to turn into a convenient, one-pan breakfast skillet recipe. Just use a spoon to make shallow wells in the cooked hash, crack fresh eggs into them, and bake until the eggs set up to your liking.
Ingredients:
3/4 pound cooked corned beef , cut into 1/2 inch cubes (about 2-1/2 cups)
1 pound russet potatoes , cut into 1/4-inch dice (about 2-3/4 cups)
1/2 cup diced red bell pepper
3/4 cup diced yellow onion
4 tablespoons unsalted butter
1/4 cup thinly-sliced scallions
1/4 cup Italian parsley , chopped
1 teaspoon fresh thyme leaves , chopped
1/4 cup chicken stock
4-6 large eggs
kosher salt and freshly ground black pepper