5-Minute Cheddar Bacon Ranch Dip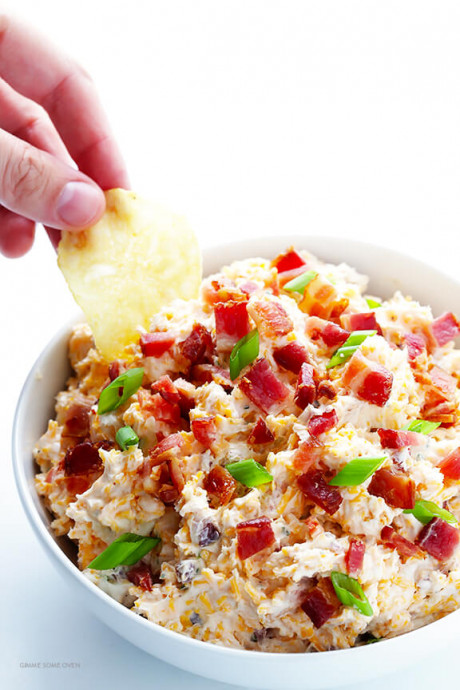 This 5-Minute Cheddar Bacon Ranch Dip recipe is super easy to prepare with just 6 ingredients, it's naturally gluten-free, and it's always (ALWAYS) a crowd favorite!
Bacon Cheddar Ranch Dip is the perfect cold appetizer dip with ranch mix, cheddar, sour cream and bacon that will be a hit for game day celebrations! If you want to make a cheese dip for the big game day party you have planned but you also want something that everyone, even the picky eater in your friend group, will think is yummy, you should try this recipe.
Bacon cheddar ranch dip is a delicious blend of cheesy, crunchy ranchy goodness that your guests may end up fighting over. It's incredibly easy to make and doesn't take all afternoon.
Bacon cheddar ranch dip is a yummy appetizer that is different from your traditional game-day dip because, unlike a lot of cheese dips, it is served up chilled instead of piping hot from the microwave or oven. This means that it makes for a great side to bring along to a summer BBQ or a pot luck because the cool, creamy ingredients are refreshing on a hot day (which is also a great excuse if you can't wait until next Super Bowl to try them again.)
Ingredients:
8 strips cooked bacon, finely-diced
1 (8 ounce) block low-fat cream cheese, softened to room temperature
2 cups (8 ounces) shredded part-skim sharp cheddar cheese
1 cup plain Greek yogurt
1/2 cup thinly-sliced green onions (about 3–4 green onions)
3 Tablespoons Ranch seasoning mix, homemade or store-bought (equivalent to 1 packet)
Kettle Brand Potato Chips for serving (I used the Sea Salt flavor)