Irish Lamb Stew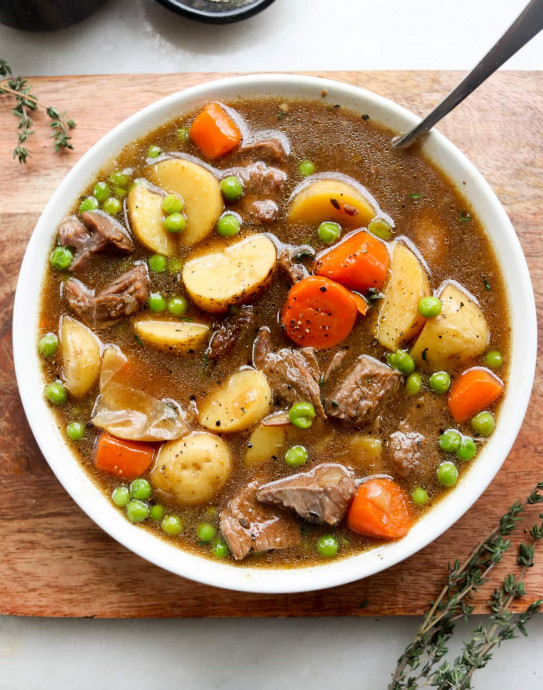 When you conjure up thoughts of Ireland, you likely think of sloping thatched-roof houses with gardens in front and huge fireplaces in rooms where the owners take refuge from Ireland's frequent rain. And on the table, by the fire, you would probably find Irish stew, a regular one-pot meal. Rustic, simple, and hearty, there's no one true recipe for the stew. It has evolved and adapted over time and different places, but it's usually made with lamb, onions, and potatoes. Other ingredients have been added or replaced over time; originally the stew was made with mutton—older animals with tougher and fattier meat—but nowadays lamb's shoulder seems to be the go-to cut. It was also made without potatoes, as these came to Ireland only in the 16th century when they were brought over from South America.
Each family has a favorite variation, but most people like to add carrots. Parsnips, peas, turnips, or celery can also appear, and even Guinness is added in some versions. This recipe has tasty bacon and bacon fat to add an extra layer of flavor to the broth.
In traditional fashion, make this stew the day before and refrigerate overnight, as it is even better reheated. The flavors have time to blend together more, which results in a more flavorful dish. Accompany your meal with a loaf of good soda bread. Some pickles and sauerkraut can complement the earthy and bold flavors of the lamb.
Ingredients:
1/2 pound thick-sliced bacon, diced
6 pounds boneless lamb shoulder, cut into 2-inch pieces
1 teaspoon salt, plus more to taste
1/2 teaspoon freshly ground black pepper, plus more to taste
1/2 cup all-purpose flour
1/2 cup vegetable oil, or as needed
2 cloves garlic, finely chopped
1 large yellow onion, finely chopped
4 cups beef stock (homemade or store bought)
2 teaspoons sugar
4 cups chopped carrots (1-inch pieces)
2 large yellow onions, thinly sliced
3 pounds potatoes, peeled, quartered, and cut into 1/2-inch pieces
1 teaspoon dried thyme
1 bay leaf
1/2 cup dry white wine
Chopped parsley, garnish
1 loaf soda bread, optional