Fish Pie (for Easter!)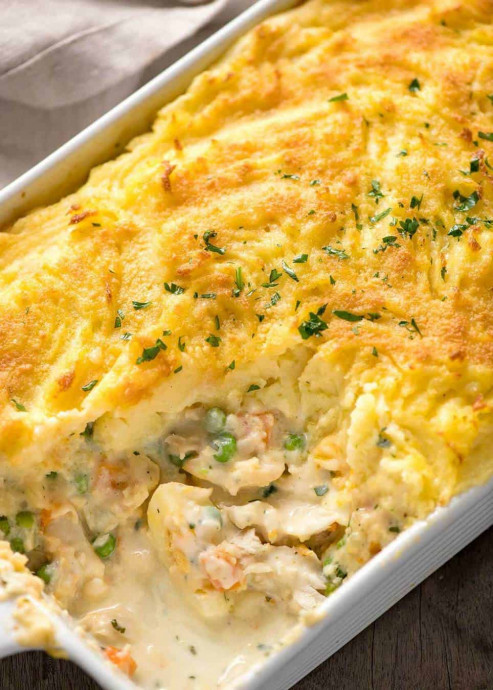 A Fish Pie fit for a king! Flakes of fish smothered in a creamy white sauce, topped with mashed potato then baked until golden brown, a wonderful centrepiece for Easter you can make with fresh, smoked and even canned fish. Use a combination of smoked fish and unsmoked fish for optimum flavour and texture, plus it's more economical. Also see recipe notes for using canned tuna or salmon to make this! A golden crusted, creamy mashed potato topping. A filling loaded with flakes of fish smothered in a beautiful creamy white sauce.
The extra pots and pans are totally worth it! I like to use a combination of both smoked and normal unsmoked fish. The smoked fish (the bright orange one) provides most of the flavour. But I find it a bit overwhelming to use only smoked fish which is why I use both smoked and unsmoked (normal raw) fish. Key tip for the sauce – make sure it's pretty thick. Like honey thick – that's the best way I can describe it. It won't thicken any more in the oven and also it's likely that the fish will seep some liquid while baking. So basically, make the sauce as thick as you want it to be when you cut into the pie. This Fish Pie might be fit for a king, but it's totally economical to make.
Ingredients:
FISH:
400 g / 14 oz smoked fish of choice
400 g / 14 oz raw unsmoked fish of choice
3 cups / 750 ml milk , low fat or full fat
1 brown onion , quartered
4 cloves , optional
WHITE SAUCE:
50 g / 3 tbsp unsalted butter
2 garlic cloves , minced
1/2 small onion , finely chopped
1 small carrot , finely chopped
1 small celery stick , finely chopped
1/3 cup / 50g plain flour
1 tbsp fresh tarragon , finely chopped (optional)
2 tbsp parsley , finely chopped
Salt and pepper
POTATO TOPPING:
750 g / 1.5 lb floury potatoes , peeled and cut into 2.5cm / 1" pieces
30 g / 2 tbsp+ unsalted butter
1/2 cup / 125 ml milk, any fat %
PIE:
1 cup frozen peas
4 hard boiled eggs , quartered (optional)
30 g / 2 tbsp butter , melted
1/4 cup / 15g grated parmesan cheese , optional
Finely chopped parsley , for garnish (optional)