Parmesan Duchess Potatoes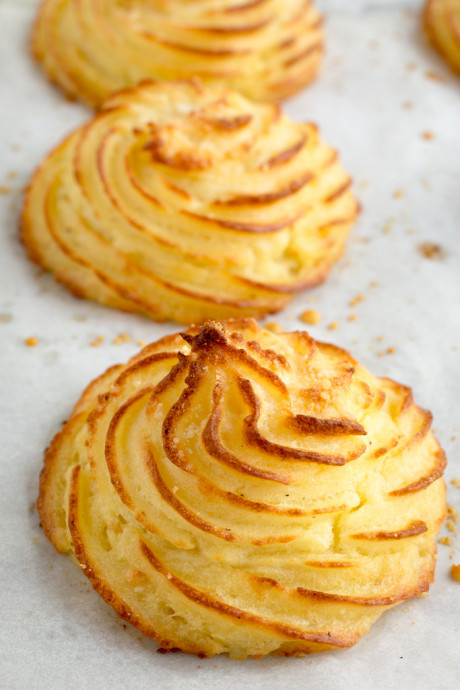 Rich and creamy inside with buttery, crispy exteriors, these Parmesan Duchess Potatoes are an easy way to elevate mashed potatoes for an impressive side dish. I have a weak spot for mashed potatoes. They're so warm and comforting and just seem to accompany almost every winter meal perfectly. When I'm serving a holiday dinner, such Beef Tenderloin, Slow Roasted Prime Rib, or Honey Mustard Glazed Ham, I like to dress up my mashed potatoes a bit. Duchess Potatoes are a French preparation combining mashed potatoes with egg yolks, butter, and seasonings. Once mixed, the potatoes are piped into individual servings and baked until hot and golden. For this recipe, I've added grated parmesan cheese for an extra layer of flavor.
These Parmesan Duchess Potatoes are one of my favorite ways to bring a little extra elegance to my holiday table. Fluffy and creamy inside with a buttery, crispy exterior, these individually-piped potato puffs make a beautiful presentation. They're an easy way to refresh an old favorite for your dinner guests.
Ingredients:
3 pounds Yukon gold potatoes , peeled and cubed
1/3 cup heavy cream
4 tablespoons unsalted butter , softened, plus 2 tablespoons melted for brushing the potatoes
1/2 cup plus 2 tablespoons Parmiganno Reggiano , divided
1 teaspoon kosher salt , plus additional to taste
1/2 teaspoon freshly ground pepper , plus additional to taste
pinch grated nutmeg (optional)
3 egg yolks